Official random 928 Picture Thread (post a new 928 pic or stay out)

01-16-2019, 04:30 AM

---
Originally Posted by
JPTL
I'm sure this is an Enzo, but I wasn't aware of CS & Tony's buddies, the Delaporte's
928 Expedition
. I guess I live in a cave.
Some really cool pics.
For those of you who missed the discussion here:
RL thread
This picture is real. It was quite difficult to convince the big Chief, but they made it.

01-16-2019, 01:19 PM

---
Originally Posted by
JPTL
For those of you who missed the discussion here:
RL thread
That link is actually from their first expedition (Paris to Calcutta). In 2016 they drove it around the world! Here is the RL thread for that adventure.
https://rennlist.com/forums/928-foru...the-world.html
Oh and they have a coffee table book ↓


01-16-2019, 01:45 PM

---
Thanks Nate. I saw that book and will most likely order it. I see that it's in Euros with a fixed shipping cost. Did you order from that site or is there a US site that converts currency and shipping?
A photo from another expedition that was much less respectful to the poor 928


01-18-2019, 04:18 AM

01-19-2019, 02:55 PM
Petie3rd
Rennlist Member
This Post Sponsored by:
Dow Corning« & DeoxIT«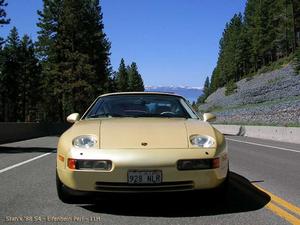 Join Date: May 2004
Location: Philly PA
Posts: 22,459

---
Some pictures of my freshened interior new Sliverknit carpets new Wool Coco Mats new dash/pod/console in leather.
Rob Budd Supplied carpet and dash leather and also made the contrasting door inserts and armrest.

01-19-2019, 03:17 PM

---
Apropos the 'theme' from the last page:
Counterclockwise from bottom left:
- David Lloyd's racer a few hours before it was driven by <name-deleted-to-protect-the-arguably-innocent> and popped the 2/6 bearing.
- Kim Crumb's '89GT
- Greg Scheckel's concours-worthy '88
- My '91GT when she was still young