Official random 928 Picture Thread (post a new 928 pic or stay out)

01-02-2009, 07:51 PM

---
James,
What you are looking at there behind my 86' 928s are my Dad's (LEFT-RIGHT) 07' 911 Turbo, 03' Z06, 97' 928s4, 72' DeTomaso Pantera (Pre-L), and his 56' Jaguar XK140. I Should have mentioned that when I posted it. We built that building in 03' it's 50'x100' with a 30'x40' shop behind the glass door.
Here is another of My 86 s and my Dad's 87 s4 at Nemacolin Woolands Resort in Farmington, PA during a PCA sponsered brunch.
Michael Robinson
1986 928s
175+K
BLK/BLK 5SPD

01-03-2009, 12:05 AM

---
Pantera! YES OF COURSE! I could hardly see it and for some reason the Pantera just didn't come to mind! Odd since I have ALWAYS wanted one! GREAT collection and looks like an awesome "showroom"! Well done!

01-04-2009, 04:10 AM

01-04-2009, 10:32 AM
Petie3rd
Rennlist Member
This Post Sponsored by:
Dow Corning« & DeoxIT«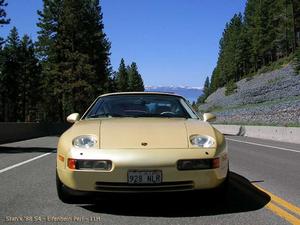 Join Date: May 2004
Location: Philly PA
Posts: 22,617

---
2006 The car color is called Elfenbein Perlglanz or in english, Ivory with a pearl effect.
On the Glassurit color page its listed as 11H.
The aircraft picture is a Learjet 35 climbing through 22,500 ft headed west towards Denver, just after climbing through the overcast layer at 21,000 ft
---
Last edited by Mrmerlin; 01-06-2009 at

09:19 PM

.

01-06-2009, 04:43 PM