Oil line fittings

04-17-2019, 06:52 PM

Oil line fittings
---
There are 2 oil line fittings for the oil cooler lines. From the factory these are sealed to the block with loctite green and sometimes munge the threads on removal. I had 2 of these and one was longer than the other. I assumed they were readily available so the longer one I used and made permenant with job weld due to the longer threads. I wanted to order another longer one, and found out from Roger that Porsche only shows one part from 78 to 95. has anyone found different lengths one. Now that I think about it there may have been a thread years ago about it and someone found one on a Volvo or something that was 2 threads longer. Does anyone remember ? Has anyone seen something like the Porsche ones on another car?

04-18-2019, 01:50 PM

---
the ones for the oil coolers are smaller. the one I used and don't have a picture of was 3mm longer than the other one. It is Greg Browned to the block so no way to measure. This was on the lower threads that had part of the sealing surface broken off. The upper threads were ok, but wanted to permanently seal it as well as it is more difficult to get to once the lines are on. Hence I wanted the longer threads to really get good engagement.

04-18-2019, 04:27 PM

---
Possibly only slightly related - when my rad failed I bought a local aftermarket (oz) ADRAD two cooler unit - readily available, cheaper . It came with adaptors in the cooler ports. When I checked engagement with the hose ends, they fitted pitch wise, but seemed sloppy. Compared to the original adaptors, very sloppy. Seemed to be a diameter issue.Re used the originals, no issues in many years. I suspect there are adaptors and adaptors...
jp 83 Euro S AT 57k

04-19-2019, 09:27 AM
Petie3rd
Rennlist Member
This Post Sponsored by:
Dow Corning« & DeoxIT«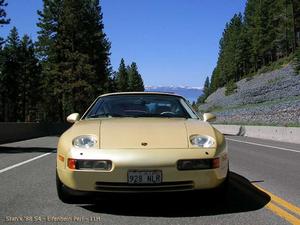 Join Date: May 2004
Location: Philly PA
Posts: 22,609

---
you can measure the fitting the block,
remove the line,
then use a piece of bent wire with an L on the end,
put it into the fitting hook the end of the fitting,
then measure the wire,
then measure the surface from the girdle to the tip of the fitting,
then you have the amount its installed into the girdle