Poor running 87 S4 after warm up

04-15-2019, 11:14 PM
Petie3rd
Rennlist Member
This Post Sponsored by:
Dow Corning« & DeoxIT«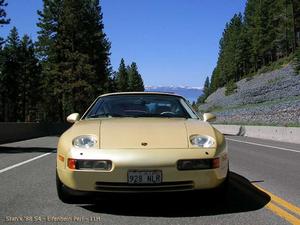 Join Date: May 2004
Location: Philly PA
Posts: 22,610

---
once a 928 is not running well,
the first thing that should be done is a CE panel cleaning, service the battery, and all the ground points.
Clean the computer connections, spark plug wire inspection
this will usually restore lost voltage

04-17-2019, 07:44 PM
Addict
Rennlist Member
Join Date: Jan 2019
Location: Dallas
Posts: 126

---
Your compression numbers were low ...on PS.
Your coil ground resistance is odd...on PS.
You mentioned the plugs being glossy "mostly all around", but were the PS different?
Was your yellow spark on both sides our just PS?
Did you bench test the coils? (Primary and secondary resistances? Sorry if you already mentioned that, this thread is getting long!)

04-17-2019, 08:06 PM
Addict
Rennlist Member
Join Date: May 2002
Location: Roswell, GA
Posts: 5,080

---
So, I replaced the coils and coil wires with late model versions. Blue spark at every wire end.

Pulling spark plug leads did not change the idle - that is odd. Swapped the MAF for a rebuilt unit from Roger,

I'm going to circle back to fuel delivery.

I've looked over the fuel lines - no kinks as far as I can see. PSI is 60 and the injectors are clicking away.

04-18-2019, 01:32 AM
Addict
Rennlist Member
Join Date: Jan 2019
Location: Dallas
Posts: 126

---
Wow...well at least you've come across and fixed/inspected lots of other items during your journey!
Did you ever take your LH box and put it into another car to see what happened?
Yeah, fuel is where you started, and the plug conditions could point to mixture problem for sure. (Or it could have been the coils you just fixed.)
It'd be nice if you could watch the fuel psi while you drove and see what it does at your 1/8 mile marker.
I've never done it, but I know someone who used a Go-Pro camera mocked up inside the engine bay to do that......or if you have a long snake camera for your phone.

04-18-2019, 09:27 AM
Addict
Rennlist Member
Join Date: May 2002
Location: Roswell, GA
Posts: 5,080

---
I think I'm running low on gas - so I'm going to toss another 5 gallons in the tank.

Also, going to pull th CE panel - voltage from from the FP relay (12.26) to the fuse (11.76) needs some investigation.

Replacing all the fuses with high quality ones after the cleaning.