engine cleaning?

03-18-2019, 05:20 PM

---
As mentioned above, the best way IMO is to use the elbow grease method. Start at the top of the engine and work in small chunks, one square foot area at a time. Use soft bristle brushes and rags. Use your favorite cleaners (keeping in mind Dr. Bob's warnings) and only spray them directly onto your rags or brushes. That way you can prevent any specific cleaner from getting onto parts it shouldn't touch. This method takes a long time. But block out an entire weekend and work in 30-60 minute intervals, taking beverage breaks, and by Sunday evening you'll be amazed at the results.

03-19-2019, 10:14 AM

---

well it will certainly look cleaner after all those beverages, but may need another set of eyes to know for sure

03-19-2019, 10:24 AM
Addict
Rennlist Member

Rennlist
Site Sponsor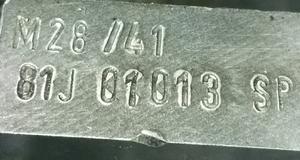 Join Date: Jan 2003
Location: Double Oak, TX
Posts: 15,702

---
Foam gun and allow to sit for 30 mins - wash off with hose - repeat if required.
Then use "Pig Spit".
__________________
Does it have the "Do It Yourself" manual transmission, or the superior "Fully Equipped by Porsche" Automatic Transmission?
George Layton March 2014
928 Owners are ".....a secret sect of quietly assured Porsche pragmatists who in near anonymity appreciate the prodigious, easy going prowess of the 928."

03-19-2019, 01:39 PM
Chronic Tool Dropper
Lifetime Rennlist
Member
Join Date: Oct 2001
Location: Bend, Oregon
Posts: 17,821

---
I have used the foam cannon on other engines that are no more than casually dusty, but it doesn't do a lot for grease/oil deposits.

For those playing along at home, a foam gun or foam cannon is used with (in my case) a pressure washer, and mixes detergent, water and air together to make a thick foam. Dust and most non-oily deposits float on the bubbles created and rinse off easily with no mechanical agitation (sponge wipe or brush) needed. My home car washing method uses one with car wash soap and is fabulous at making short work of the task. Under the hood, the same precautions exist for protecting delicate stuff from the foam and rinse water.

Under the car for chassis and suspension cleaning, the same foam cannon system with a more aggressive detergent (typically Dawn dishwashing detergent) is part of a multi-step cleaning protocol. I can safely say that the foam cannon and the pressure washer are great tools for car cleaning, so long as you are good about getting water and detergent into places they can't be, like electrical stuff and the alternator. The risk at the alternator, if you are still reading, is that degreaser, detergents and water will wash the lubrication out of the bearings. The windings and the electronics (diode packs and regulator) love being clean and don't mind the water and detergent at all. The front ball bearing is sorta-sealed, while the rear needle bearing is not sealed at all beyond a felt ring to try and keep the grease in. In my experience, it's pretty easy to do the whole aggressive engine cleaning, then drop the alternator, finish cleaning it, and replace the front bearing and repack the rear one.

The intake temperature switch on the 32V cars is not waterproof at all. Water gets in the switch and corrodes the little snap mechanism inside, causing it to eventually snap closed and then not open again. The cooling fans run down the battery. You can just remove the switch while cleaning, as the hole it threads into is blind. Tape off the not-brown wire while you clean, then put the switch back on when you are finished with the whole effort.

More to think about: Many like to use "brake cleaner" to flush oil and crud out while engine cleaning. The solvents in brake cleaner are not at all kind to plastic, and that includes wire insulation and non-rubber hoses. Most wire insulation is PVC based, and ends up damaged by the solvents. Those who have used brake cleaner to wash out the valley at the top of the engine have likely discovered that the MAF, TPS and knock sensor wiring is pretty well trashed when they finally get around to an intake refresh and solving the oil leak causes. A fringe benefit of brake cleaner, especially the chlorinated versions, is that it's fat-soluble and will cause nervous system damage. Get it on your skin, breathe the vapors, or expose your eyes to the vapors, and you accrue nervous system damage including brain damage.