finding some issues on my 1985

02-24-2019, 11:47 AM

finding some issues on my 1985
---
I made the mistake of turning on my rear defrost... top dash right hand switch...it turned orange..Im guessing it was on, problem is I could not get to turn off... had to disconnect the battery, the large push in button under the headlight switch..looks like it would be for driving lights? Mine does nothing when pushed in... what does it supposed to control? I am making up a list for when I bring it into a shop....at night the window switches don't illuminate.. is that correct... I know its a old car but just making sure... my hatch release near parking brake handle to the left of the drivers seat does nothing...maybe a fuse? only way to open hatch is with the key...not a big deal but.. at night transmission gear drive and 3rd only light up no 2nd gear light..maybe its linkage adjustment...even the handle doesn't line up to the gear selection number perfectly... I have a slight oil leak from the engine drivers side.. and I still think the engine is holding back power....it only feels alive above 3500 rpm.... I think its going to be a costly repair bill.... damn used cars.. lol

02-24-2019, 01:25 PM
Petie3rd
Rennlist Member
This Post Sponsored by:
Dow Corning« & DeoxIT«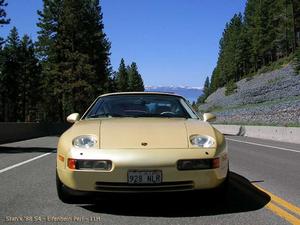 Join Date: May 2004
Location: Philly PA
Posts: 22,609

---
if all your complaining about is a few lights not working and the auto hatch release inop,
you got nothing to worry about.
Just make sure wherever you take this machine to be fixed the mechanic is well versed on 928 Porsche's.
OR ,
If your handy with the tool box , doing some searching, and reading.
You will have most of these issues fixed in a few beers/ hours or less

02-24-2019, 01:49 PM

---
Mrmerlin, I am trying to get the car close to being as it was in 1985.... I would like all to work as it should, granted...what it will cost to do so...might not be worth it to me, but we will see....I am not a mechanic, so I do need to find someone as you mentioned that knows these cars..... I do have a few names on a list to start checking out shops local to me.... fingers crossed

02-25-2019, 12:39 PM

---
Originally Posted by
boca928s
Mrmerlin, I am trying to get the car close to being as it was in 1985.... I would like all to work as it should, granted...what it will cost to do so...might not be worth it to me, but we will see....I am not a mechanic, so I do need to find someone as you mentioned that knows these cars..... I do have a few names on a list to start checking out shops local to me.... fingers crossed
Boca,
You just need to make an appointment with MrMerlin and then a road trip to Pennsylvania from Long Island and leave your car with MrMerlin for a week or so.
The car will be as you want it when you get it back.
Don't pay someone to LEARN how to fix your 928. Pay someone that already knows how to fix it.

02-25-2019, 01:28 PM

---
Originally Posted by
boca928s
I made the mistake of turning on my rear defrost... top dash right hand switch...it turned orange..Im guessing it was on, problem is I could not get to turn off... had to disconnect the battery, the large push in button under the headlight switch..looks like it would be for driving lights? Mine does nothing when pushed in... what does it supposed to control? I am making up a list for when I bring it into a shop....at night the window switches don't illuminate.. is that correct... I know its a old car but just making sure... my hatch release near parking brake handle to the left of the drivers seat does nothing...maybe a fuse? only way to open hatch is with the key...not a big deal but.. at night transmission gear drive and 3rd only light up no 2nd gear light..maybe its linkage adjustment...even the handle doesn't line up to the gear selection number perfectly... I have a slight oil leak from the engine drivers side.. and I still think the engine is holding back power....it only feels alive above 3500 rpm.... I think its going to be a costly repair bill.... damn used cars.. lol
Boca928, Rear defroster turns off on its own after about 15 minutes - even if the car is off IIRC. Pressing button only turns it on. (See page 34 of your owners manual).
The button under the headlight switch is the foglight switch. (See page 27 of your owners manual)
First guess is to check fuse (Fuse #1 on my '84, your fuses are ) Your fuses are listed on the fuse board (See page 81 of your owners manual)
Window switches do not illuminate.
Hatch release only operates if door is open. If it does not work, make sure your interior lights come on when door open. The door pin that triggers the interior lights allows for the hatch release circuit to complete. If interior lights come on and door is open and hatch still makes no sound, then check fuse.
No idea on the gear selector lighting. Someone else will have to chimein.
A lot of this is covered in the owner's manual. If your car did not come with one, download it.
https://rennlist.com/forums/928-foru...al-online.html

02-25-2019, 02:23 PM

---
Regarding the rear defroster, that one got me too...twice! I use it so infrequently I forget what it's supposed to do in between.

Note that you can also activate it by turning the **** clockwise, in which case turning it back will turn it off.

02-26-2019, 07:14 PM

---
I don't have an owners booklet... wish I did..... where do you down load one from? I don't know if it shuts off after 15 minutes, I didn't wait that long, but I do know I could not turn it back off be turning it counterclockwise after being on...

02-26-2019, 07:26 PM
Petie3rd
Rennlist Member
This Post Sponsored by:
Dow Corning« & DeoxIT«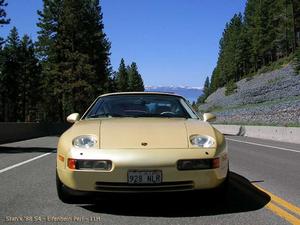 Join Date: May 2004
Location: Philly PA
Posts: 22,609

---
if you know how to do a google search,
type in
1985 Porsche 928 owners manual ,
find the link for Rennlist.

A lot of your questions can be answered by you doing some re/searching .

If you have not yet read the FAQ at the top of this page then it will greatly assist you in providing much wisdom,
so you will be well informed about the hows, whys, wheres ,and most other such things having to do with these cars.

NOTE reading the FAQ will take about 4 days so take your time to absorb as much as you can.
Once this task has been completed you will know where to go for most of the things you will need to fix and service your car.

Also make sure to read through the owners manual for your year.

Most of what you have been asking has been answered many times,
an astute new owner will be well served by applying himself to seek out the wisdom thats been given.
---
Last edited by Mrmerlin; 02-26-2019 at

07:43 PM

.