Groundwires to the coils

02-20-2019, 06:40 PM
User
Join Date: Aug 2012
Location: Trondheim - Norway
Posts: 130
Likes: 0
Received 0 Likes on 0 Posts

Groundwires to the coils
---
Since I can not get my -87 running, with no sparks to the plugs, I am continuing checking the ignition system for some obvious fault. For ones - unscrewing the wire from the coils pole, I see there is no continuity from the coils negative wire to any of the cars ground points. Is that correct ? Where are these wires coming from ?

Thanks

02-21-2019, 06:07 AM
Addict
Rennlist Member
Join Date: May 2012
Location: Thousand Oaks California
Posts: 3,359
Likes: 0

---
The ground wires should have continuity. They connect to the engine and the engine connects through a ground strap under the passenger's side to the body of the car.

Most likely your straps are corroded and need to be replaced. I recently replaced mine in my 89. Not too expensive for the Porsche parts but they could be easily replicated for 20% of the cost.

02-21-2019, 06:28 AM
Addict
Rennlist Member

---
I discovered that my port-side ground wire had broken to the point of having just as strand or two - metal fatigue from engine movement. I made up a new, longer, loopier wire and connected it to a more distant bolt on the engine.

02-21-2019, 11:27 AM
Addict
Rennlist Member

---
Yes I believe that is correct, but let's be sure your question is properly understood and vetted

It seems the guys that are responding about the coil ground wires are talking about the radio suppression grounds, not your question about pole.

02-21-2019, 01:10 PM
Petie3rd
Rennlist Member
This Post Sponsored by:
Dow Corning« & DeoxIT«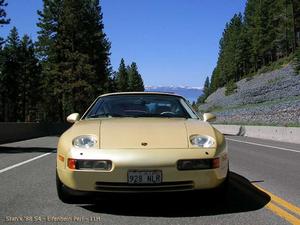 ---
I think we are discussing two different ground wires
OP please post a picture of the ground wire you want info about before you connect or do any testing

02-21-2019, 04:38 PM
User
Join Date: Aug 2012
Location: Trondheim - Norway
Posts: 130
Likes: 0
Received 0 Likes on 0 Posts

---
I see that my question may be interpreted differently, but I believe "skpyle" answered it. Thanks
When negative wire is dismantled/ unscrewed from the coil, there is no continuity from wire to ground on chassis. When connected back to the coil, I do have continuity.
I had to confirm this is correct. One point of my speculation list.

(On my old 911 the coil wire is connected directly to ground. )
Thanks

02-21-2019, 11:46 PM
Chronic Tool Dropper
Lifetime Rennlist
Member

---
I suspect that your old 911 had an aftermarket CD (Capacitor-discharge) ignition system fitted. Popular retrofit to carburetor and some very early injection cars with points-and-condenser ignition originally fitted.