Camp 928 III - upstate NY, June 13-16, 2019

06-17-2019, 04:29 PM
Addict
Rennlist Member
Join Date: Jun 2010
Location: The Poconos
Posts: 3,614
Likes: 0

---
I have to say: I'm not an HGTV viewer, so I had no idea that HGTV had turned the old Brady house into a project. And when Dylan started telling me about his part of the project, he was telling me about the difficulty in finding the original furniture, how much the set changed - even from episode to episode, and how he had to simulate Greg's attic room in the basement because there was no attic in the actual house. Even through this, I didn't realize that he was one of the on-camera folks; I thought he was working behind the scenes. It wasn't until I got home and started telling my wife about meeting a guy who worked for HGTV on the Brady house that I Googled it and there Dylan was!
His Weissach is very cool. The wheels look amazing. It's had a few rough years, but it's still going. I believe he's planning on doing a full restoration. They were genuinely nice and amazing people.
(And, really, I was surprised to meet Jay Kempf.

We had a semi-long discussion about an aerospace-related project he's got going that sounds cool as hell.)

06-17-2019, 10:11 PM
Addict
Rennlist Member

---
Brian wondering why the pit crew is taking so long:
My random thoughts - and thank yous - about the third Camp 928:
We had new people, and people relatively new to the 928. Some were younger than the usual crowd of grey beards. That was
very good
, for both.
We had campers! Ten people stayed on site for Friday night. Had I remembered that the cabin was open, I would have offered it to Dylan and Naomi and they would probably have stayed Saturday (sorry).
I wish I had more time to give demo rides of my collection, but a good number got rides in the Unimog and the Tesla. Bugeye rides were thwarted by a float bowl problem.
Stan did some great things to my car, not least of all was finding and fixing a horrible rattle I've had for years - steel ***** I'd used to blank off the sampling tube ports that had (or had always been) loose. Stan was a hero to a lot of people. Watching Stan work is watching an artist. Stan knows so much he doesn't have to think long before springing into action. Zach's car was a bit more puzzling:
Dylan brought Naomi and she is a wrencher! She knows when something sounds wrong.
What would we do without Tony?
Chuck Gladle did the grilling, and in an entertaining manner. Joyce was a godsend to Nancy.
Nancy - oh, boy, are we lucky we have Nancy. Did you know her first car was a '69 Camaro?
She found my 928.
Bob is another terrific supporter and raconteur, and he gave us a fine tech session on paint correction. And I have a much better door on the ... ah ... 911.
Jay is a presence! And he led his epic fun run again.
We have Paul to thank for that presence, and some fine wine, too.
Bob Britton led the Newcomb Fun Run.
Zach - in the face of adversity - did a very fine thing. We'll let him tell that story when he chooses.
Oh, Canada! It's really great to have you guys here. It's a privilege to have the Maple Leaf on the sticker.
Everyone contributed, not least by participating in the adventure of owning and driving one of these incredible cars.
Thank you all for a great Camp 928!
We need more pictures, though....

06-17-2019, 11:05 PM
Addict
Rennlist Member
Join Date: May 2005
Location: SW NH
Posts: 33
Likes: 0

How to fabricate a CAT- BYPASS at Camp 928
---
This was great weekend and a big thanks to everyone especially out hosts Curt and Nancy. What a great bunch of gearheads.
Here are some photos of the un-scheduled How to build a Cat By-Pass workshop.

06-18-2019, 12:36 AM
Petie3rd
Rennlist Member
This Post Sponsored by:
Dow Corning« & DeoxIT«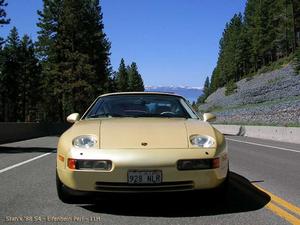 ---
Well this was a fun time for all, each and every one played a part like the spokes of a wheel.
The hub revolving around the wonderful compound of Curt and Nancy ,
and the goodness they provided by opening up their property to a bunch of strangers,
who became closer friends as the weekend progressed.

I really am glad these machines are so well built as they can seem to last for many more decades with proper handling.
All of the caretakers giving their time and cash to keep em Flying!

Thanks Curt and Nancy and everyone else that was here to experience what this great group of people have been able to create.
Its a wonderful Life !
---
Last edited by Mrmerlin; 06-18-2019 at

06:12 AM

.

06-18-2019, 10:05 AM
User
Join Date: Sep 2012
Location: NEW YORK
Posts: 90
Likes: 0

---
A great weekend. Thanks to Curt and Nancy for being wonderful hosts. What a great group of people who all pulled together to get "Corky" back on the road under Stans expert supervision.
The story of being stranded in the middle of nowhere with out any cell service and subsequent rescue will be an entertaining subject for next years campfire. Just to say many lives were saved.
928ers are the best!!! Looking forward to next year. Don't miss this event!!
Zach

06-21-2019, 09:18 AM
Addict
Rennlist Member

---
Quick video of Mitchĺs Old bugger with that great patina, blowing by me on the way back on the fun run to Chestertown. I was going about 80 when he blew by me.
Great patina on this old bugger! But it runs great!

06-21-2019, 10:45 AM
Addict
Rennlist Member

---
Remind me next year to tell you about Exit 28, where the State Police Barracks are. Trooper: "How's your record?" Me: "Uh ... clean!" Trooper: "In a Porsche?" Me: "I'm surprised myself" after suppressing the truer statement "I've been lucky". Trooper verifies my record, hands me back my papers, says "Slow down" and walks away.
The troopers were probably disappointed this year not to find Dave C. speeding by to the south. Campfire story.
Wow, were we lucky - the rain held off for the important 48 hours of the event. Rained 3.8 inches here yesterday, with our phones blasting warning tones about flash flooding.

07-09-2019, 10:46 AM
Addict
Rennlist Member
Join Date: Nov 2015
Location: New Hampshire / MA
Posts: 136
Likes: 0
Received 0 Likes on 0 Posts

---
Hey all!
I just wanted to say thanks for a super cool weekend. 928 people are my kind of people. I liked that the cars ran the gammut from perfect to patina and there was no class structure about it like at other Porsche get togethers (I generally have the cheaper of the cars there and am the only one that works on the cars).
I wish I had not waited so long to get a 928 as I listened to the naysayers... Even though my car has a lot of sorting to do, thats the kind of Porsche enthusiast I am. To get the car back on the road and appreciated. This couldn't have been better highlighted by the now known as Patina car almost being the hit at the car show because "it still drives" and is no longer rotting under a tree in a back yard.
Great to put some faces for forum names like Shaun, VanD, now I know that I already know Healey, MrMerlin, BRB, etc.. Was really a joy meeting everyone.
Special thanks to Curt for hosting and MrMerlin for helping so many people out including myself. It can't be understated how fun the impromptu tech session was when unforutunately Zach's most epic car died on the rally and then was brought back to life by a little diagonising of a backed up "air pump" so to speak

)))) (see pics above).
Next year, I promise to join the rally as I now have steel ball joints :P