Got an announcement, Mid America's former "TWEAKS" company is cleaning out parts

02-09-2019, 10:41 PM

Got an announcement, Mid America's former "TWEAKS" company is cleaning out parts
---
Listing them on eBay. Saw a few 928 parts, including an ashtray insert and shop manual.

Tweaks closed about 15 years ago, and Mid America is apparently clearing out their warehouse of old items. Hope this info is helpful to some.

02-10-2019, 10:34 AM

---

02-10-2019, 12:26 PM
Addict
Rennlist Member

Rennlist
Site Sponsor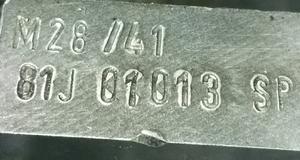 Join Date: Jan 2003
Location: Double Oak, TX
Posts: 15,704

---
Prices higher than the dealer.
__________________
Does it have the "Do It Yourself" manual transmission, or the superior "Fully Equipped by Porsche" Automatic Transmission?
George Layton March 2014
928 Owners are ".....a secret sect of quietly assured Porsche pragmatists who in near anonymity appreciate the prodigious, easy going prowess of the 928."