Car stalls and (sometimes) wont start

02-01-2019, 09:52 PM

Car stalls and (sometimes) wont start
---
HI folks,
Im having a stalling issue with my recently refurbished '85 ROW (auto) and I haven't been able to find much relevant info thus far. I was hoping to gain some directional traction moving forward. Thanks in advance
A couple Fridays ago I had an early 1/2 day off work and I decided to run afternoon errands in the 928. I got caught in some construction gridlock and I ended up idling without much forward progress for the better part of a half-hour. While idling, fully warm but not unusually hot per the gauge, the car stalled without warning and would not restart. Cranked well, seemed like full power to lights, gauges, etc. but no start. Pushed to the side of the road (with the help of some good samaritan Anteaters), jumped back in the car to call AAA, cranked it once more and it starts. I thought I might be low on fuel (regardless of the gauge reading) so I headed to the nearest gas station, but the car stalled again a few blocks short. This time I was able to navigate it off the road to a safe spot, where I could call AAA. While waiting for the tow, I tried to start it half a dozen times over the course of an hour. No luck. I didn't have a relay bridge with me (dumb) but I did have an extra 53 relay (smart) so I popped it in. Turned the key, and Im running again. Went to the gas station and filled her up. Canceled the tow, and continued to run errands, thinking all the while relay relay relay. Fast forward another hour or so and another 15 miles under my belt. My last errand was about 4 miles from home. I started the car up to go home and while pulling out from the parking lot, it stalled again. Pushed it out of traffic, tried to start, no luck. Called AAA. Tried to start it a dozen times over the course of 1.5hrs while waiting for the tow. When AAA arrived, I had to push the car a little to position it for him to load, to do this I wanted to unlock the steering column so I put the key in the ignition, and I thought what the heck, and it started right up, no lie, (like it was scared to be loaded on the tow truck). The tow truck driver agreed to follow me home. A mile down the road while driving @30-40mph the car stalled, I started to pull off the road, put it in neutral and I started it back up while on the slow roll. Drove the remaining 3 miles homes and made it, although when slowing for traffic I put it in neutral and revved the engine for fear of it stalling again. I tipped the tow truck driver and I was happy to be home without a ripped up front grill and/or chin spoiler.
Most parts on the car are new or rebuilt, but the fuel pump wasn't, neither was the ignition switch, they both are notorious suspects for 928s, so I replaced them both just for the hell of it. Ran the car around the neighborhood a couple times without a problem. Thought I had solved the issue.
Tried for my Friday errands today and the same stall happened, only this time I was less than a mile from home and engine not even warmed up yet. Im stumped. The battery reads strong on the battery (14.2) , at the jump post (14.4), and per the dash gauge. Seems to (928-uneducated) me that its being starved of fuel or air, but the entire fuel system is new or refurbished now from front to back as far as I can think of. When I had the car in to Gregs last, he mentioned that the fuel gauge vs. filling up the tank was off, and that he thought I may have installed the tank vent tube backwards (the one that runs from the top of the tank to the filler neck), pinching it, and not allowing for a full fill up. I intend to drop the tank and check it but I haven't gotten to it yet. Not sure if that pinched vent hose would cause this type of issue anyways but just putting that out there. I should also mention that during the refurb, I inspected and refreshed the original engine front wire harness, but now Im wondering if I should've replaced it with a new one, for piece of mind if nothing else.
I have an appointment at Gregs in a couple weeks for other stuff, but I was hoping somebody had some ideas for me to check out prior to then. Thanks again for any ideas. Josh
Beer time

---
Last edited by Ladybug83; 02-01-2019 at

10:16 PM

.

02-01-2019, 10:20 PM
Petie3rd
Rennlist Member
This Post Sponsored by:
Dow Corning« & DeoxIT«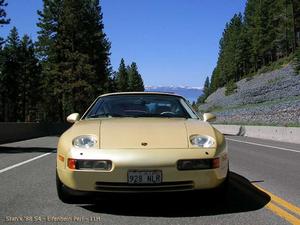 Join Date: May 2004
Location: Philly PA
Posts: 22,660

---
first thing to check are the fuses put deoxit 100 on them all, replace the fuel pump fuse.
Inspect the relays and verify that one of the connectors has not pushed out of its relay holder.
On the CE panel inspect the bottom row of connectors, make sure that one of the wires is not pushed out of the housing.

Also reclean the battery terminals and the wires that go to them and replace the ground strap if its original.
Look in the hatch for the gang ground and clean it ,
its usually behind the RR quarter liner.

You can get to it by removing the hatch tiedown then a few screws that anchor the rear edge of the liner,
just bend it enough to get a wrench in the space to loosen the bolt then spray d100 on the bolt and wires and tighten it back up.

For the fuel hose being pinched if this is something you worked on then yes inspect it,
or you could go open the tank cap next time it stalls leave it a turn loose and see if it starts.

02-02-2019, 05:55 AM

---
When I read of issues like this my first suspect is always fuel pressure failure. If fuel pump performance were the cause the problem would happen every time so the prime suspect has to be something interrupting operation of the fuel pump and the most likely suspect in your case has to be the relay dropping in and out for whatever random reason or the power supply. Stan has the continuity aspect covered.

Ignition switch problems tend to manifest themselves as an inability to start the engine- whether or not such can cause an intermittent random run problem remains to be seen. As I am aware your model year does not have the problem the later model LH computers exhibit wherein the sub board that starts the fuel pump fails. A friend of mine had mysterious problem with his 87 S4 in that it would suddenly stop. I suggested that may have been an LH issue, we tried my spare unit in the car and the problem disappeared immediately. I am not familiar enough with your model year to know whether an analogous problem can somehow occur on your 928.

02-02-2019, 10:50 AM
Petie3rd
Rennlist Member
This Post Sponsored by:
Dow Corning« & DeoxIT«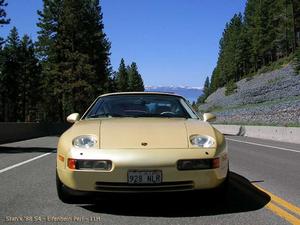 Join Date: May 2004
Location: Philly PA
Posts: 22,660

---
early LH was MAF 2.2 found in the Euro 84/85 series with the twin dizzy,
the 87 on is MAF 2.3 that supports O2 sensor operation.
I believe that the 2.3 will work in the 2.2 system

02-02-2019, 11:23 AM

02-02-2019, 12:10 PM

---
My mistake. 2.3 is correct in this case then. The original 2.2 was too cumbersome to tune well, so the car was fitted with a 2.3LH as well as a fuel injection harness from an +87 and the corresponding engine sensors custom fitted to the 16V.

02-09-2019, 07:45 PM

---
Update:
Started the car up this morning a few times but it quickly died each time.

Replaced relays with new for fuel pump, LH and EZ. Inspected pins on LH and EZ plugs and all looked ok. Battery terminals are clean and tight. Ground strap is new.

Car then started and idled for about 30min then died. Cranks strong but no restart. Heard some fast relay clicking during the restart tries. Tried with out gas cap, no change

Let rest for a couple hours then, still cranking strong but no start still.

Inspected grounds, CE panel plugs and all fuses per Stan's recommendations above. Checked engine to body ground and it's clean and tight. No love still.

Have a spare LH and will swap that tonight and update further.

02-09-2019, 09:37 PM
Petie3rd
Rennlist Member
This Post Sponsored by:
Dow Corning« & DeoxIT«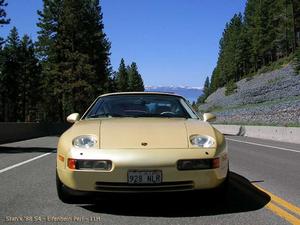 Join Date: May 2004
Location: Philly PA
Posts: 22,660

---
I thought that CPS was replaced ,
guess we need more info.
To be clear you did put a 10mm wrench on the ground bundle behind the Right rear quarter liner.
The engine grounds at the back of the V are also tight?

02-10-2019, 01:27 AM

---
Originally Posted by Ducman82
check the crank sensor?
Looks ok (taking things apart down to the MAF). Connectors are tight, and the three sensors in the V (actually 2 in the V and one over the bell housing) are more than finger tight, they seem solid. To inspect further i'd need to remove the throttle body and I'm not ready to go there yet.
Originally Posted by Mrmerlin
I thought that CPS was replaced ,
guess we need more info.
To be clear you did put a 10mm wrench on the ground bundle behind the Right rear quarter liner.

Yes, it's clean and wrench-tight

The engine grounds at the back of the V are also tight?
I don't see any ground wires back there, what location specifically? I have two grounding locations on the passenger-side cam cover at the front and rear smog tube mounts and they are both clean and tight. I checked the grounds above the CE panel, they're clean and tight. Engine to chassis is good too.
I'll swap computers tonight and test tomorrow.
Thx for the help so far

02-10-2019, 02:44 AM

---
Originally Posted by Ducman82
Nothing in there man. The two in the v are the knock sensors
Ok thanks, I'm still learning. The CPS has the slightest super tiny wiggle to it but the Allen head bolt for it is wrench tight. It looks good.
I swapped the computers and it started right up, twice. It's too late to run it outside so I'll put the air box back together tonight and run it again tomorrow to see how long it lasts.