Oil additive for high mileage 89 S4?

01-24-2019, 03:30 PM

Oil additive for high mileage 89 S4?
---
I will be doing my first oil change soon on my recent purchase and the oil cooler thread currently running set me to thinking.

Fred mentioned that he uses STP in his engine in a really hot environment. My ambient temps don't reach Fred's levels but I do have 161k on the motor that seems never to have been apart.

So my question is whether I can benefit from adding any ZDDP additive, and if so, what is the consensus on which one?.

I do p[an on sending a sample to Blackstone for analysis. I will be using Mobil1 15W50 which is supposed to be high zinc anyway.. Thoughts on an additive, or not?
John

01-24-2019, 04:14 PM
Petie3rd
Rennlist Member
This Post Sponsored by:
Dow Corning« & DeoxIT«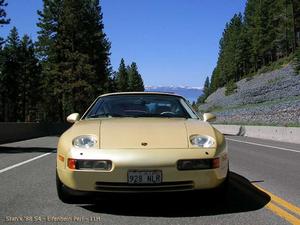 Join Date: May 2004
Location: Philly PA
Posts: 22,577

---
I would suggest to use Valvoline VR1 20W50 Racing oil,
it comes in synthetic or Dino versions.

This oil will give you the proper ZDDP additive package,
and its easy to find at most FLAPS.

01-24-2019, 04:54 PM
Shameful Thread Killer
Rennlist Member

Join Date: Aug 2004
Location: Rep of Texas, N NM, Rockies, SoCal
Posts: 19,442

---
No additive. Yes on Valvoline VR1. The viscosity modifiers in a 15W-50 oil reduce its effectiveness to lubrication. Plus, Mobil oil is a poor base stock oil.

01-24-2019, 04:55 PM
Super Moderator - Cracklin' Rosie
Lifetime Rennlist
Member

---
No. It's a waste of money and could actually upset the additive package in the oil you are using.

Additives are a complete package. Think of is like baking cake, just pouring in more of any of the ingredients just because you like it doesn't necessarily make the cake better and could upset the balance of the other ingredients.

Long story short, prior to about the year 2000, every oil has about 1100 / 1200 ppm of ZDDP. Thanks to the EPA that number was dropped to 600 / 800 (something about damaging catalytic converter which may not actually be true at all)

The collector car world reacted, and most thicker oils (like 15/20w-50) went back to the old formula, life was good. Almost no cars made in the last 10 years use anything thicker than 40wt (most are 30 or even 20) so the oil companies were able to keep producing the oil's classic cars need without upsetting the tree huggers involved with new car regulations.

Bottom line, buy an oil with the "old" standard 1100 / 1200 ppm ZDDP and the correct viscosity for your climate. 161k miles is not high for a 928.

Thankfully there are very 15/20w-50 oils on the market with the lower level of ZDDP.

Valvoline VR-1 (regular or synthetic)
Motule
Brad-Penn
Redline
Royal Purple
Just to name a few.



01-24-2019, 04:56 PM
Official Bay Area Patriot
Fuse 24 Assassin
Rennlist Member

---
I guess it's personal preference. Not knocking VR1, but it's pricey in my area, which is why I went the additive route. Been using it for almost 8 years now and no issues.

01-24-2019, 05:00 PM

---
Unless you are looking to deal with a specific problem the above mentioned ZDDP oils will do nicely. For example, I once dealt with a car that had sat for many years and after resurrection it had a audible lifter tick that would not cure itself. A bottle of Swepco 502 did the trick...and still going strong many years later.

01-24-2019, 06:41 PM
Official Bay Area Patriot
Fuse 24 Assassin
Rennlist Member

---
Gbarron, the Rislone solved my lifter tick issue I had. Swepco 502 wasn't available locally. The ZDDP in it was just an added bonus.

01-24-2019, 09:53 PM

01-25-2019, 09:33 AM

---
I use Joe Gibbs Racing Driven oils in all my cars. For weight, the 928 (and 914) get Driven DT50 (20W/50), along with the Indmar engine in the Malibu. The 987s and Cayenne TTS get DT40 (5W/40). Both grades have the proper levels of Zinc & Phosphorous (ZDDP), mentioned by Hacker with around 1,000 ppm remaining at the oil change interval, and UOAs have looked good.
Here's the report from the 928. The last 2 samples are DT50, with the first one being the Shell Rotella that was in the car when I first got it.

01-25-2019, 04:11 PM
Official Bay Area Patriot
Fuse 24 Assassin
Rennlist Member

---
I use Mobil 1 15W50. I don't recall if it has enough ZDDP or not so I've been sticking with Rislone additive in every oil change. My lifters sure are happy though and that is no longer nerve-wracking


01-25-2019, 06:18 PM

---
I don't know the marketing strategy for oils branded as "race oil" but if they are true racing oils, designed to be changed after only a few race miles, I don't think that is suitable for the street. I think I will stick with my original choice of oil and forgo the additives for now. If my Blackstone report comes back ugly, that might make a difference.
So I thank everyone for their input.

01-25-2019, 06:50 PM
Super Moderator - Cracklin' Rosie
Lifetime Rennlist
Member

---
https://mobiloil.com/~/media/amer/us...pecs-guide.pdf
Agreed, and that's my only complaint with Valvoline, VR-1 is not a true detergent free racing oil. There used to be 3 versions of VR-1
1. Conventional
2. Synthetic
3. Not for street use - what I would consider a real racing oil. This doesn't appear to be on the market anymore