Blaupunkt Reno replacement

01-16-2019, 03:12 PM

Blaupunkt Reno replacement
---
A while back, someone posted about a replacement radio that looked period correct close to the Reno but a more affordable blaupunkt model. I can't seem to find that thread. Does anyone know what model that was? I am nearing completion of refreshing the interior on my 88 five speed and would love to get rid of the cheap aftermarket radio the PO stuck in there.

thanks!

01-16-2019, 04:02 PM

Continental radio?
---

01-16-2019, 04:30 PM

---
---
Last edited by 77tony; 01-16-2019 at

04:48 PM

.

01-16-2019, 04:54 PM

---
There are a lot of vintage Blaupunkts that have same look and design aesthetic as the Reno model. A quick Ebay search on "Blaupunkt Radio" will turn up dozens ranging form $15 - $200. The issue that drives the price up for the Reno and other SQR23 models is that it's actually a fairly high-quality headunit with really good sound as compared the to similar looking models of the era.
Blaupunkt Tampa $111
beta $15
Heidleberg $119
Augsberg $100
Hamburg $100
That being said, all these head units are full analog with analog tuners and fairly inferior with the quality that came about in the the early 2000's when we saw digital tuners and CD/AUX inputs which offer both better sound quality and better quality interface options.
In my 928, I had a Reno. I had SW stereo refurbish it and add a aux input line. The radio quality was good, and the loudness feature did a very nice job of adding richness to the sound quality at low levels. However, there were too many shortcomings:
I want more than 5 radio presets
I want wireless bluetooth streaming.
most of the buttons on the head unit are for the tape deck (not used)
the hard line AUX input always had some level FM noise and the hard line is inconvenient.
no noise suppression between stations meant I got lost of static,
the general poor audio on FM stations,
and the lack of connivence of bluetooth.
If you are going for the look but want some modern features there look for single din alternatives from 1998-2010 and you will likely fid digital tuners, Aux inputs, and possibly USB or even bloothooth. More information here:
https://benno928.wordpress.com/2017/05/03/radio-head/
And, as others have noted, there are some modern alternatives like the Continental and Porsche Design models, Additionally I saw an article that Blaupunkt was going to reintroduce a modern version of the Reno.
---
Last edited by Michael Benno; 01-16-2019 at

06:08 PM

.

01-16-2019, 05:02 PM

---
If you want to go Original I have a totally mint reno with amp and cables on Ebay.
The next best thing is the Continental. IMO
If you want more features like sat radio I have been happy with my JVC marine unit I just put in the 87.
http://www.us.jvc.com/car/marinemotorsports/kd_x35mbs/

01-16-2019, 08:57 PM
Addict
Rennlist Member

Rennlist
Site Sponsor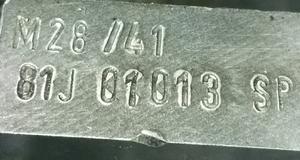 Join Date: Jan 2003
Location: Double Oak, TX
Posts: 15,605

---
Blaupunkt made a new one called the "Dearborn" and I have one in my SE. Looks identical but modern electronics - cassette and all.
Hard to find now but search Dearborn.
__________________
Does it have the "Do It Yourself" manual transmission, or the superior "Fully Equipped by Porsche" Automatic Transmission?
George Layton March 2014
928 Owners are ".....a secret sect of quietly assured Porsche pragmatists who in near anonymity appreciate the prodigious, easy going prowess of the 928."