86.5 front spacers and offset questions.

11-25-2018, 08:04 PM

86.5 front spacers and offset questions.
---
Apologies if I failed to search correctly for an answer, but I didn't find any posts addressing this issue.

Short version of my question - Did all S4's come with spacers on the front and long lug studs? If the answer is no, then please read on....

My 86.5 came to me with what I presume to be original manhole covers with a 65 mm offset on the front. All 4 wheels had 21 mm spacers underneath them and correspondingly long wheel studs. My understanding is that the spindle for the 86.5 is the same part as that on the S4 cars, and that the upper and lower control arms are the same as well. However, I believe that S4's and GTS cars may or may not have left the factory with 21 mm spacers and long wheel studs. Since I also believe that all factory 928 front wheels had an offset of 60 or 65 mm, I am jumping to the conclusion that some S4 cars had short lugs, no spacers and 65 mm offset front wheels.

If such cars came out of the factory, I am compelled to reach one of two conclusions - either that the 86.5 and S4 cars were meant to have 21 mm spacers and 65 mm offset wheels so that the short lug, no spacer cars with 65 mm offset wheels effectively had an offset of 86 mm (65 + 21 = 86) and a resulting different scrub radius or the 86.5 with long studs, 21 mm spacers and 65 mm offset wheels were meant to use 65 mm offset wheels without the spacer and had an effective offset of 44 mm (65 - 21 = 44) with spacer on. If the latter is true, than one could theoretically run a wheel with an offset as low as 31 mm on the front of an 86.5 with the 21 mm spacer removed without venturing into tram-lining land.

Does anybody know?

Thanks

11-26-2018, 03:27 AM

---
"Wow" is somewhat understated- The letters "WTF" might be more appropriate! We have countless examples of folks running incorrect offsets without understanding the implications but to actually install longer studs and fit a spacer with presumably correctly offset wheels.... mind blowingly dumb! How thick is the spacer as a matter of interest?
The front suspension is designed such that the steering geometry has a negative scrub radius of 10mm [maybe a little more on earlier versions?]. If a spacer of 10mm were fitted it would create a situation with zero scrub radius and such creates notably twitchy steering. If the spacer were 15mm it would create a positive scrub radius of 5mm which can be a tad more favourable for track work. The question then becomes one of why Porsche specified the negative scrub radius that they did. The NSR built into the design is principally to create a situation where in adverse conditions the steering self corrects "differential drag" on the wheels. The kind of scenario envisaged is when water sits on the road surface. As you will doubtless be aware, most roads have a crown in the centre to encourage storm water to drain to the sides. At some point the design can be overwhelmed and the side of the road starts to flood but the driver may not be aware of this. When the near side wheels hit such standing water it creates differential drag that will cause the car to oversteer and the faster the car is traveling the more the effect. On a car like the 928 with built in NSR of an appropriate level, steering systems so specified are "self stabilising" in such conditions. In all probability most drivers are not going to need such protections if they slow down in adverse conditions [as they should] but going sideways at 100 mph is not the time to realise that one wished one had the appropriate offset!

11-26-2018, 09:45 AM

---
Originally Posted by
Eplebnista
If such cars came out of the factory, I am compelled to reach one of two conclusions - either that the 86.5 and S4 cars were meant to have 21 mm spacers and 65 mm offset wheels so that the short lug, no spacer cars with 65 mm offset wheels effectively had an offset of 86 mm (65 + 21 = 86)
With a higher offset, the entire wheel is moved inward toward the engine.
A spacer does the opposite, therefore the resultant offset is:
65mm - 21mm = 44mm

11-26-2018, 12:51 PM

---
As noted above, the car when purchased had manhole covers at all 4 corners, 21 mm spacers at all four corners and long wheel studs at all four corners. It now has 17" Sport Classic wheels on it and the fronts have a 55 mm offset. I have to use a 7 mm spacer and open lug nuts due to the length of the wheel studs.

Having followed the advice to buy the best car I could afford, my car has been, until now, free of the surprises a lot of PO's leave for those who follow. I have to admit that I was completely fooled by the long wheel studs on the front and obviously thought they were factory. Another winter project now on the list and the long wheel studs on the front will have to go...
---
Last edited by Eplebnista; 11-26-2018 at

01:35 PM

.

11-26-2018, 01:24 PM

---
It is quite simple to cut off the studs to the correct length. And although the front suspension bits are similar the S-4 arms are different lengths than early, spindles are different, lower ball joint is flipped over etc. etc.

11-26-2018, 06:00 PM
Petie3rd
Rennlist Member
This Post Sponsored by:
Dow Corning« & DeoxIT«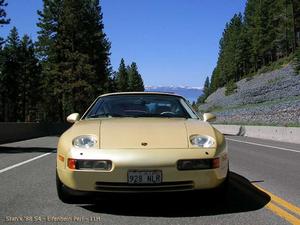 Join Date: May 2004
Location: Philly PA
Posts: 22,657

---
best bet ,
buy a set of used front hubs from 928 INTL ask for the half price discount,
prolly cheaper than buying 10 new studs and having them pressed in.
Plus you can sell your used hubs to someone that wants to go racing

11-27-2018, 01:06 AM

11-27-2018, 08:42 AM

---
Just cutting off the studs will not do the trick. The threads do not extend far enough to clamp the wheel without a spacer. Conventional wisdom is that using a die to cut the threads deeper is unsatisfactory as the diameter of the stud is too small and cut threads are understrength compared to the rolled threads made by the manufacturer. Otherwise my cutting wheel would be employed.

11-27-2018, 01:38 PM
Chronic Tool Dropper
Lifetime Rennlist
Member
Join Date: Oct 2001
Location: Bend, Oregon
Posts: 17,818

---
In the "good old days" when my hand would fit on the pump handle on the press, the shared wizzdumb was that no more than three studs should be replaced on any given hub in its lifetime. Risk of galling the holes in steel hubs, of cracking the forged aluminum hub material in forged aluminum hubs like ours. Heating the hub may lessen the risk as you drive studs out and in, new studs frozen in dry ice when installed.

What's the cost of new studs to put in vs the pretty pieces from Mark with studs already factory-installed?




Just a thought...

11-27-2018, 06:37 PM

---
Cost for 10 varies from 43.50 for NOS 52 mm to close to $200 for rennline oxygen free racing super studs. Sadly, but not surprisingly, ARP does not make lug studs for Porsches, even though they have a kit for a freakin Neon. ARP does have lug studs for the Dodge Hellcat in M14 X 1.50 in a 75 mm length that could be cut down, but it looks like the hub would have to be drilled out. ARP looks like twice the quality at half the price of the Rennline.

My wife is such a peach, she won't even flinch at the thought of hubs in the oven, but they are going to have to be seriously degreased.

I have to say I have replace a metric crap ton of studs in steel hubs over the years and I can't really see where this galling concern comes from. Put em in, the way they wan't to go in and nothing should gall.

Forged aluminium? New to me.
---
Last edited by Eplebnista; 11-27-2018 at

07:13 PM

.