LH & EZ-K Carpeted Cover Part Number

05-16-2018, 04:41 PM

LH & EZ-K Carpeted Cover Part Number
---
To you all knowing 928 gurus, I am looking for the part number and availability of the carpeted and insulated cover that fits over the computers in the passenger foot well. Mine is cracking and crumbling. I need black for an 91 S4 if anyone happens to have an additional one in excellent condition. I have searched through PET and online to no avail.Thanks in advance

05-17-2018, 12:25 PM

---
That cover is built into the front floor mat. On my 88 it was missing completely. Rob Budd sells a front floor carpet set that has the cover for reasonable money and may make just the one side for you. Give him a call.

05-17-2018, 01:25 PM

---
Hummm I think the one on a '91 is a separate part, uses a black plastic like wing nut and not the snap and strap.
The back of the part has a few plastic pins that fit into holes at the rear of the ECU's

Dave K

05-17-2018, 01:25 PM

---
BTW, I fixed mine because of the same problem.

I used some "Flex Seal" (if I remember well) and painted it in black after.

I took some pics when I did this job.
Can post them tonight if you want.

Edit: Or maybe it was the insulation part... Not sure.
---
Last edited by Bertrand Daoust; 05-17-2018 at

01:55 PM

.

05-17-2018, 09:39 PM
Addict
Rennlist Member

Rennlist
Site Sponsor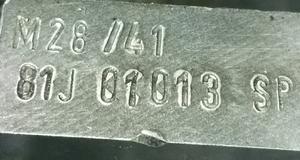 Join Date: Jan 2003
Location: Double Oak, TX
Posts: 15,388

---
928 551 010 08 5FV - Black
$400
I can't check availability as the Porsche system has been down all afternoon
__________________
Does it have the "Do It Yourself" manual transmission, or the superior "Fully Equipped by Porsche" Automatic Transmission?
George Layton March 2014
928 Owners are ".....a secret sect of quietly assured Porsche pragmatists who in near anonymity appreciate the prodigious, easy going prowess of the 928."

05-17-2018, 09:56 PM

---
I checked and it's the insulation panel that I fixed. Sorry.
Anyway, here's what I did. Maybe it would work for your part.
I put a layer of Weather Shield Flex on the rubber side, brushed it to smooth the surface a bit and painted both sides with a few thin coats of Plasti Dip.
It worked great!


05-18-2018, 10:23 AM

---
Wow! Roger that bit is pricey. For that money I'll continue to to piece it back together until it is un-salvageable. When that time comes and if it's available I'll shoot you an email.

Thanks Bertrand for the info. The insulation on mine is fine but the plastic has become brittle.