Anatomy of a hydro locked engine

05-05-2018, 10:30 PM
Addict
Rennlist Member
Join Date: May 2002
Location: Roswell, GA
Posts: 4,747

Anatomy of a hydro locked engine
---
PO said the engine hydro-locked due to a leaking twin screw supercharger inter-cooler. Sure enough when we pulled the manifold the intake ports were white with dried inter cooler fluid.
Today my son and I stripped the engine. Unless I'm missing something the head gaskets show no indication of failing. No cracked cylinders, but there are some scratches - nothing to bad. Coolant was green no sign of oil.
Here are the pictures of the heads, the block and the inside.

05-06-2018, 03:17 AM

---
World of difference between an engine that has experienced a coolant leak and one that has been "hydrolocked". Looks as though a good clean of the combustion chambers and a reseal will see that motor back in business

Fortune has favoured the brave on this one!

05-06-2018, 11:25 AM
Addict
Rennlist Member
Join Date: May 2002
Location: Roswell, GA
Posts: 4,747

---
The current plan is to have the heads reconditioned and use them for my future stroker project - they have the raised bosses Greg prefers.

I'm going to clean up the short block, pull the pistons get them cleaned reinstall and save it for another project.

05-06-2018, 12:59 PM
Addict
Rennlist Member
Join Date: May 2002
Location: Roswell, GA
Posts: 4,747

05-06-2018, 07:22 PM
Addict
Rennlist Member
Join Date: May 2002
Location: Roswell, GA
Posts: 4,747

---
A pretty long time. Based on the insurance card in it - 10 years.
I assumed the bottom end was a loss when I purchased the lot it was a part of. If it isn't that would be a pleasant surprise. All I was hoping for was 89+ heads for my stroker.
Kevin

05-07-2018, 03:24 AM

---

05-07-2018, 06:10 AM
Petie3rd
Rennlist Member
This Post Sponsored by:
Dow Corning« & DeoxIT«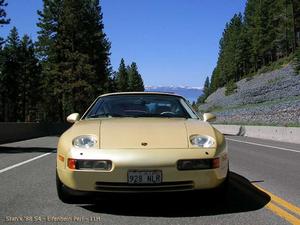 Join Date: May 2004
Location: Philly PA
Posts: 22,226

---
FWIW when cleaning the pistons donĺt send them out to be hot tanked
i know this process will damage the chromium coating
the best way I have found is to soak the piston in simple green for few hours then scub with a toothbrush then wash in hot water then wash with car soap then spray with wd40 wrap them in a lint free towel and bag till your ready to use them

05-07-2018, 10:07 AM
Addict
Rennlist Member
Join Date: May 2002
Location: Roswell, GA
Posts: 4,747

---
Greg's advice on cleaning is to ultrasonically clean the pistons to remove any oil residue/carbon on the sides and then soda blast the tops.

As mentioned above the whole point of the 89 engine is harvest the heads for a stroker that Greg will build once the dust settles at his shop. So if the block is no good no big loss.

Kevin

05-07-2018, 01:09 PM

---
As far as hydraulically locking goes, there are various degrees of it. There is the kind that occurs when the engine is running, which is gives you bent rods, etc.

Sometimes, a fluid leak when the car is at rest fills the cylinders and when you go to crank it, it cranks a bit and then stops solid as if someone removed power to the starter. I had this happen on a 930 with bad CIS injectors that literally filled the cylinders with raw fuel. Cranked and cranked and BOOM, stuck solid.

Pulled plugs, vacuumed out cylinders, all ran fine after injectors were fixed.

Moral of the story: the starter itself is usually not capable of bending things under hydraulic lock.
__________________
Current cars:
70 914-6 - 2.7L screamer
73 911T Carrera RS Clone, 3.6 power
75 911 Targa - RSR width 930 motor
78 928 - DEVORE CAR, 6.54L
83 911 Euro SC - 3.2 Short Stroke!
88 928S4 5 speed
02 911 Targa
04 911 40th Anniv
07 997 Twin Turbo 6MT - Techart beauty
08 SL55 AMG
09 997 Twin Turbo 6MT - Factory Aerokit
11 Camaro SS - 6MT Z28 Spec, V7Ysi 850whp

05-07-2018, 01:22 PM

---
The Inter-cooler won't hold pressure, I won't know the exact point of the leak until I get the Inter-cooler out of the lower Intake box and the bottom plate is sealed w/ the "Right Stuff".

Any leak inside that box will get directly sucked into any cylinder that is on the Intake stroke, it's not a per cylinder thing, it's a cooled compressed mass of air that's made available to all cylinders.
I found that the Heat exchanger also leaks, it's now scrap copper, as larger and better ones can be had

Was happy to see that the 2.4 ltr TwinScrew unit itself is clean inside and so far looks to be in great shape, It's all cleaning up well, even the injectors work and some still had old fuel in them when tested

Thanks again Kevin for keeping me in mind !
Dave