'79 window goes up but not down

02-11-2018, 11:42 PM
User
Join Date: May 2012
Posts: 10

'79 window goes up but not down
---
Hi All,

My window went down and then quit on the way up. So took the door apart, powered the motor up and down, nothing happened. Took the motor apart, found a stuck brush, cleaned everything it now works fine. Took the switch apart cleaned it, it works fine. Replaced the fuse and relay just for fun. Now goes up with the switch but not down. If I reverse the leads on the motor then it goes down with the up switch.

So what else is there? what happens between the switch that works fine and the two leads that go to the motor that could be going wrong? I understand that the two motor leads get 12 volts until the switch drops one of them to ground, but not sure what happens in between or what can go wrong or where.

thanks, Matt

02-11-2018, 11:51 PM
Petie3rd
Rennlist Member
This Post Sponsored by:
Dow Corning« & DeoxIT«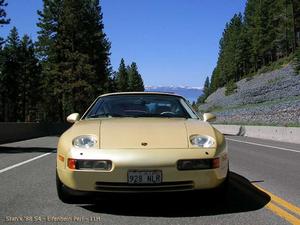 Join Date: May 2004
Location: Philly PA
Posts: 22,029

---
you have a worn switch,
what happens is that the window motor starts drawing more current to move,
this heats the switch up and then it melts the contacts ,
they push out the bottom just enough to stop making contact .

NOTE you can heat the contact from the bottom with s soldering gun and push it back in,
you should also clean the contacts with Deoxit 100 then test it .
it would be wise to buy another switch,
and lubricate the window arm pivot to make the window lift easier to operate

02-12-2018, 02:24 AM
User
Join Date: May 2012
Posts: 10

---
Thanks Stan.

I took the switch cover off and sanded the contacts clean then I closed the contacts with the switch open and verified the voltage and the switch is definitely closing so I dont think it is the switch.

What wiring or circuits are between the switch and the motor?

Also I can replace the switch to try it. It looks like the wires from the switch go forward to where I cant see where the connector would be with the side of the console off. Where is that connector?

thanks, Matt

02-13-2018, 07:40 PM

---
Stan is probably right, i had the same problem a few years ago and fixxed it by cleaning the switch.
I actually found out after i opened the doorpanels etc, to get to the motor. I found out by testing it by switching the wires and then it would only go down

sprayed a lot of contactspray and used some sandpaper if i remember correctly.
Good luck!