A/C Compressor

01-07-2018, 12:32 AM

A/C Compressor
---
I've read at least 20 threads on A/C R12 to R134a conversation and compressor resealing. My compressor grinds when it spins, so I need to rebuild it or replace it. While I'm at it, I figure it is a good time to convert the system to R134a. I understand that the 80-89 all used a Denso A/C compressor and the 78-79 used a Bosch compressor. However, on my '80, I have a Bosch compressor (pic below). Is the 78-79 compressor or is this an aftermarket compressor? Can I still use the Denso Compressor?
I also read the Bosch compressors do not tolerate the R12 to R134a conversion. Is this correct?
Thanks up front for your expertise.

01-07-2018, 02:53 PM
Addict
Rennlist Member

Rennlist
Site Sponsor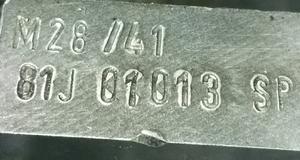 Join Date: Jan 2003
Location: Double Oak, TX
Posts: 15,399

---
Hard to tell from the picture what compressor you have on there. The early Bosch was much more rectangular and chunky in design when compared to the later round Denso.
My local AC peeps will not rebuild any of the early Bosch units as parts are very hard to find and they tend to leak. Mark @ 928 Intl may have a rebuilt unit.
Much better to upgrade to the Denso. You will need a different bracket and hardware and hoses. As the picture looks more like the Denso design you may already have what you need.
I sell the rebuild kits for the Denso and the compressor itself is $425.
__________________
Does it have the "Do It Yourself" manual transmission, or the superior "Fully Equipped by Porsche" Automatic Transmission?
George Layton March 2014
928 Owners are ".....a secret sect of quietly assured Porsche pragmatists who in near anonymity appreciate the prodigious, easy going prowess of the 928."

01-08-2018, 11:17 AM

---
Here is the compressor I put on my 80 last year. It was $300 + new expansion valve, o ring kit, 134 conversion kit. I removed all the hoses and dropped them at the local AC shop, they rehosed the same day for 134, ran me around $200 if I remember correctly. Since you have everything removed, it's a good time to clean the condenser and flush the evaporator. If you need any photos, I'll get them for you. I reused my fittings on the top of the compressor, just clean and install new o rings.

01-11-2018, 11:23 PM

---
Uploaded a few from the manual and a few of my old and reman. Mine was a Nipo Denso. I still have the Bosch, Maybe rebuild later. Any of the parts suppliers on this site can hook you up. I had my lines made at a local shop, they messed it up the first time. Would be time ahead to get the correct double barrier lines new. You can reuse the top plates that the hoses run too, just install new O-rings.
---
Last edited by Mikebte; 01-11-2018 at

11:26 PM

. Reason: More photos

01-12-2018, 03:38 PM

---
Thanks for the pictures. The Nippodenso and Bosch look to be interchangeable. Roger indicated it may be hard to rebuild the Bosch unit, and I read in another thread they don't accept the R134a like the Denso compressors. I had hoped to rebuild the compressor, but it sounds like I'll need to find a replacement. It's good to know the Denso will fit without a bunch of extra hardware.