DFW 928 Breakfast - Saturday Jan 6th Dixie House Cafe Euless

01-03-2018, 08:21 PM
Addict
Rennlist Member

Saturday January 6, 2018 DFW Breakfast GTG
---
A shout out to all those hungry 928 enthusiasts: this month's breakfast will be held at (surprise surprise!!)the Dixie House restaurant at 2051 Airport Freeway, Euless, Texas 76040 at 8am this coming Saturday, January 6, 2018. Feel free to come and show off those new house slippers, socks, ties, pajamas, or whatever you got for Christmas. Or alternatively, show us what you got yourself for your favorite car.

This is a 928 event, but we don't hate, so bring what you got. A 928 is not required to attend!!

01-04-2018, 12:30 PM
Addict
Rennlist Member

Rennlist
Site Sponsor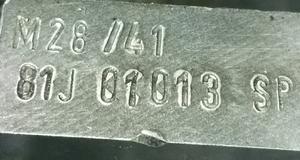 Join Date: Jan 2003
Location: Double Oak, TX
Posts: 15,720
Likes: 0

---
__________________
Does it have the "Do It Yourself" manual transmission, or the superior "Fully Equipped by Porsche" Automatic Transmission?
George Layton March 2014
928 Owners are ".....a secret sect of quietly assured Porsche pragmatists who in near anonymity appreciate the prodigious, easy going prowess of the 928."

01-04-2018, 03:35 PM
Basic Sponsor
Rennlist
Site Sponsor

Join Date: Aug 2008
Location: North Richland Hills
Posts: 432
Likes: 0
Received 0 Likes on 0 Posts

DFW 928 Breakfast - Saturday Jan 6th Dixie House Cafe Euless
---
Join us for the first 928 Breakfast of 2018!
Saturday, January 6th - 8am
Dixie House Cafe
2051 Airport Freeway
Euless, TX 76040

Bring a friend. Join us the first Saturday of every month where 928 Owners gather to eat breakfast at Dixie House Cafe in Euless, TX.
It's the largest monthly gathering of GTS's in the country!
__________________
Laura V.

928's R Us

Email:
[email protected]
My Fan Club:
http://www.facebook.com/LauraV.928?r...le#/LauraV.928
928 Owner's Club Member
The World's #1 Porsche Parts Diva