Magnetic drain plug for 79

10-09-2017, 07:13 AM

Magnetic drain plug for 79
---
Hi, recently did my first oil and transmission changes on my new to me euro 79 5spd, and noticed that there was no magnet on any of the drain plugs.
This is pretty shoddy, is it not?
Anyway, I am replacing all 3 for the next change, and there seem to be different types for different years.
928s intnl says 78-80, my UK suppliers list 911-107-176-03 one says 'all 928', one says 78 only. Porsche PET is inconclusive!

The plugs I have looked different to the ones on my SC thats for sure. What to buy?

10-09-2017, 11:23 AM

---
Check with Roger. I had difficulty figuring out which one was correct for my '82 US, and he hooked me up.

10-09-2017, 05:16 PM
Addict
Rennlist Member

Rennlist
Site Sponsor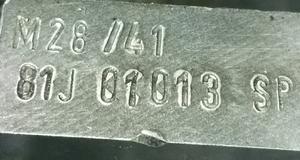 Join Date: Jan 2003
Location: Double Oak, TX
Posts: 15,301

---
Oil Drain Plug 78 to 80 - 22mm 911 107 176 03
Oil Drain Plug 81 to 95 - 20mm 944 107 197 01

Both of these have magnets. Be aware that it gets interesting when you find out that the oil pan was changed at some time - late v early and vice versa. Measure the thread diameter to be sure.
__________________
Does it have the "Do It Yourself" manual transmission, or the superior "Fully Equipped by Porsche" Automatic Transmission?
George Layton March 2014
928 Owners are ".....a secret sect of quietly assured Porsche pragmatists who in near anonymity appreciate the prodigious, easy going prowess of the 928."

10-12-2017, 04:29 PM

---
Thanks Roger. Wondering why the originals didn't have the magnets..