Need a single H4.

10-09-2017, 05:29 PM
Electron Wrangler
Lifetime Rennlist
Member
Join Date: Mar 2002
Location: Phoenix AZ
Posts: 11,930
Likes: 0
Received 0 Likes on 0 Posts

---
The lens alone can't make an H5 into an H4. The optics rely on the reflector, the lens and the bulb location and specifically the filament locations within the bulb and the low beam shield position.
The reflectors are different between H5 & H4, also the 9004 & 9003 bulbs are very different (Transverse Vs. Axial filament orientations) => obviously differently low beam shielding (filament as 'shield')
You have to have the right reflector type to mount a 9003 bulb it is a radically different mount from a 9004 and does a much better job of dissipating heat to the metal reflector via a large metal mounting flange - which also does a better job of precisely positioning the bulb wrt the reflector.
No way round needing ALL the important parts to make it work right. (sorry about the enormous pictures - but they do clearly show the major differences)
Great to have the lens replacement options. I'd be interested to see what you get with a new lens from Roger on an H5 reflector - hopefully something at least a little better than a H5...?
Alan
H4 9003 Bulb (Axial Filaments)
H5 9004 (Transverse Filaments)

10-09-2017, 05:36 PM
Addict
Rennlist Member

Rennlist
Site Sponsor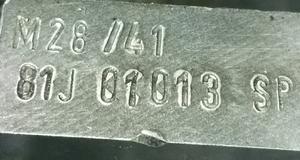 Join Date: Jan 2003
Location: Double Oak, TX
Posts: 15,715
Likes: 0

---
Actually in practice the improvement over the crappy H5 is significant. Maybe not as good an an actual H4 but a BIG improvement.
Plenty of customers also used the new LED lights for even better lighting. Proof is in the pudding as they say.
__________________
Does it have the "Do It Yourself" manual transmission, or the superior "Fully Equipped by Porsche" Automatic Transmission?
George Layton March 2014
928 Owners are ".....a secret sect of quietly assured Porsche pragmatists who in near anonymity appreciate the prodigious, easy going prowess of the 928."