Projects on my new, to me, 1974 914-6

04-08-2019, 06:06 PM
User
Join Date: Apr 2006
Location: Rockwell, NC
Posts: 450
Likes: 0
Received 0 Likes on 0 Posts

---
Great news today. John Forbes, of Black Forest Racing, called me this afternoon to tell me the motor is running, and running well. He did a leak down test and it was 2% on all cylinders. According to John, the leak down test should be done on a warm motor. Since he wanted to know what he had before he put the motor back in the car, he did the test on a stone cold motor. He thinks the leak down percentages would be closer to zero had the engine been warm. He said the engine sounds great and is very responsive.

His son is the computer guy who runs the dyno. He is out of town this week so it will be next week before we can put it on the dyno.

After installing the shifter, it was really stiff. John noticed that as well and they fixed that. He said it now shifts well. Now that the motor is back in the car, John is having the State Police come to his shop to inspect it since it has an out of state title. Once he has that done, I will be driving there (about fifty miles) to pick up the paperwork and get it registered. And...to hear that motor run!!!


04-12-2019, 05:50 PM
User
Join Date: Apr 2006
Location: Rockwell, NC
Posts: 450
Likes: 0
Received 0 Likes on 0 Posts

---
I visited John's shop today to give him some money and to, hopefully, drive the car. Since is was raining, we passed on the driving but I did take a couple videos of the engine running. It sounded great!!
John has been driving it as he is fine tuning the shifter adjustments. He says it is very strong as currently configured. Should be even stronger after some fine tuning. It is difficult to start when cold but John's son, Cody, says it needs to have the fuel enrichment increased when cold. Cody will be back next week to fine tune it and then do some dyno runs. He typically videos the dyno runs so I should have some more video next week. I may have to hook up the Go-Pro for the drive home!!
John commented that first and second gear are vey close. Ed had the transmission geared this way for autocrossing. It effectively makes it a four speed as you can take off in second gear. Second, third, and fourth are very close while fifth is an overdrive gear.

05-01-2019, 05:43 PM
User
Join Date: Apr 2006
Location: Rockwell, NC
Posts: 450
Likes: 0
Received 0 Likes on 0 Posts

---
No car yet. John's son Cody returned from his trip and dyno tuned the engine last week. He did not make a power run which he is planning to do this week. While tuning it, he was having some issues with the left bank and right bank having different fuel mixtures. There is only one O2 sensor so he wasn't sure what the problem was. So he called Electromotive, the makers of the computer. They worked it out and now everything is as is should be.
There have been a couple other issues that John and Cody have worked on. One was the tach not working. Turns out I did wire it correctly but the signal put out by the computer was too weak to work with a factory tach. John has an amplifier adapter on the way to remedy that.
Before I took the car to John's shop, there was a small leak on the transmission. Running the car revealed an even larger leak on the left side around the output seal. John has fixed those as well. Brad Mayeur built that transmission back in 2006. I discussed the leaks with him and he said he was having a problem with the rear case leak at that time. He said he would pay for the repair. He was not having an issue with the output seals at that time but would talk to John about it. Not too many people would back up work they did 13 years ago!! Tells you a lot about Brad's character.
The temperature gauge was also not working and John is tracking that down.
The most vexing issue has been the shifter. John worked for days trying to get the aftermarket shifter to work. Despite many adjustment attempts, he could either have 2nd and 4th or 1st and 5th, but never all of them. After some discussions, we decided to try a completely stock shifter. Same results. John had never run into this situation before. So he shined a light down the tunnel and used a mirror to see if there were any obstructions. There was one. When I installed the right seat belt receptacle, I had used a bolt that was too long. It protruded into the tunnel just enough to keep the rod from moving far enough to the right to engage gears. In all of his time working on 914's, John had never run into this before. At out last discussion, he was going to adjust the stock shifter to make sure everything worked so he could give the car back to Cody to do the dyno runs. Once that is done, he will re-install the aftermarket shifter and see how that works.
Despite this has being an expensive exercise, I am glad I had to take the car to John. I would have gone crazy trying to figure out the shifter and the tach. Plus I now have the EFI properly tuned. I am excited about getting the car back. May not be this week as they are very busy there with race prep for their customers. Plus we are going the Outer Banks for a week in our motorhome and leaving this Sunday.

05-25-2019, 10:58 PM
User
Join Date: Apr 2006
Location: Rockwell, NC
Posts: 450
Likes: 0
Received 0 Likes on 0 Posts

---
And then there were more problems!
John works on the air cooled motors while son Cody works with modern electronics. Due to a miscommunication, John had told me that Cody had the issues worked out on the fuel injection. That wasn't the case. He was still having problems tuning it. It was not responding well to changes he made on the setup and it was till spitting back through the stacks on part throttle. At wide open throttle it was looking pretty good but there were issues with the transition on part throttle. Cody had spent quite a bit of time conversing with Richard Clewett about the issues but they could not get it to respond the way it should.
This prompted Cody and John to begin looking at the overall health of the motor. They had done a leakdown test prior to installing the motor and it was good. They decided they should do a compression test. Cody got about 120 and John read about 130 on each of their respective compression testers. As their gauges were far from new, they each decided to order a new compression tester from Snap-On so they could check it again. This was on Monday a week ago. The gauges were to come in on Wednesday.
The car had come with a large box of records which I had gone through nearly a year ago when I first got the car. John and Cody's issues with spitting and not having the power they thought the engine should have sounded familiar. I dug through the records and found some documents showing that the original builder of the motor had these very same issues. Below is a letter from him to Ed Mayo in Dallas concerning these issues along with a dyno report showing only 125hp at the wheels. Also below is the bill from Ed Mayo outlining some of the things he found. None of these were going to restore lots of power but, evidently, made it better.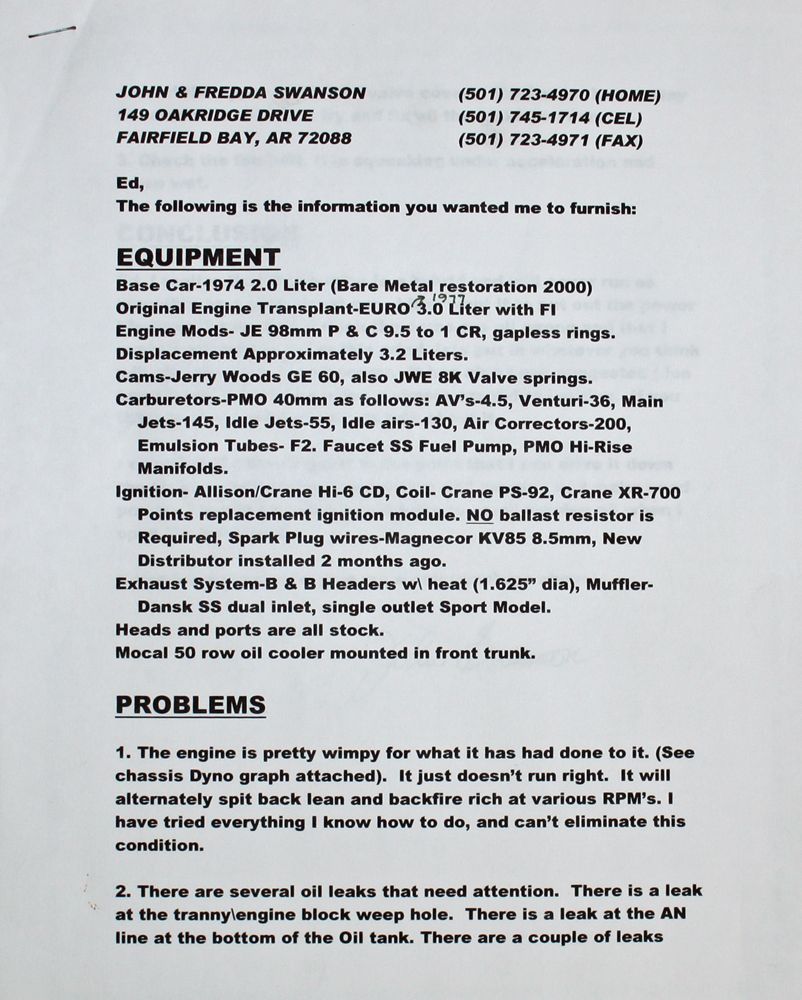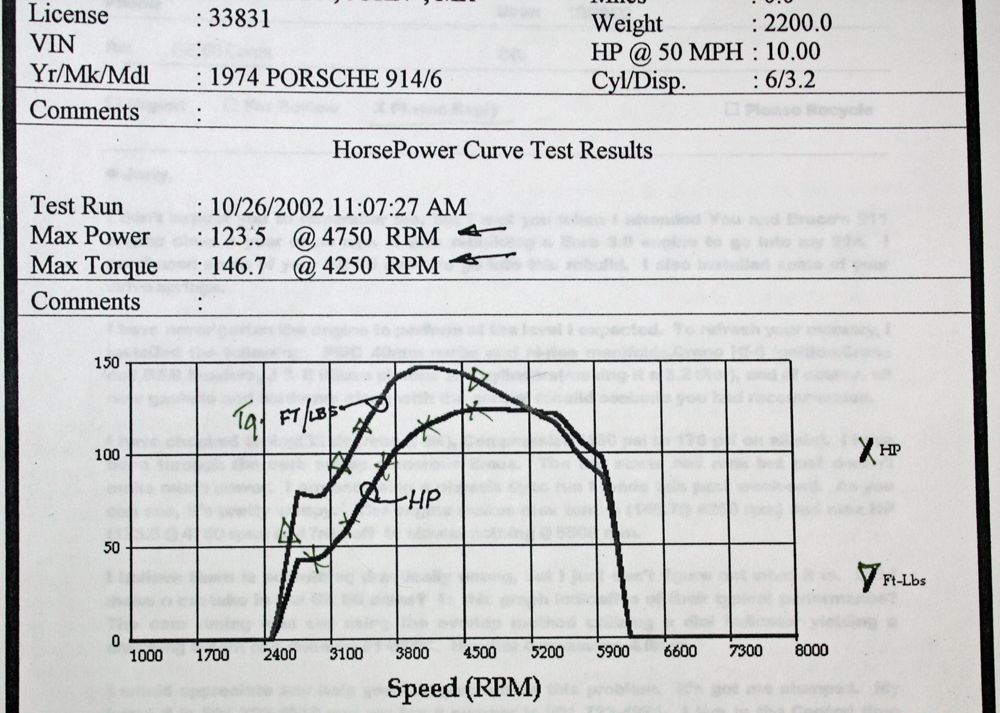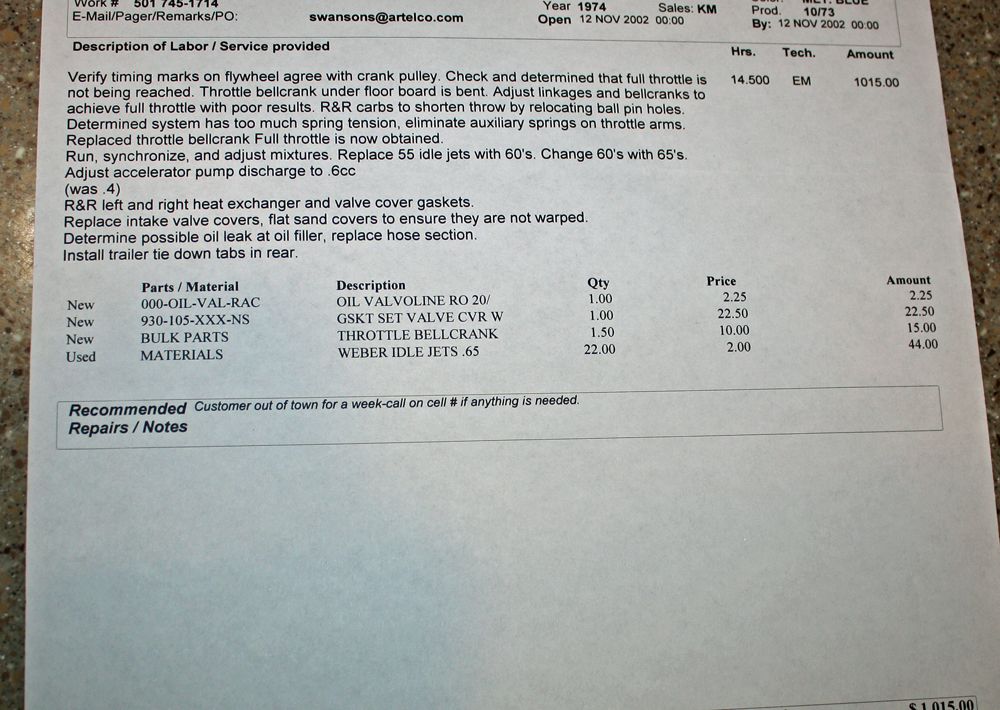 I had some business to take care of near John's shop so I headed there with these documents. Upon reading them, John thanked me for bringing them as there were going out of their minds trying to tune the car. Shortly, the Snap-On truck arrived and John immediately did a compression test. The new gauge showed 135. John commented that not only was it low but the way it moved the needle on the gauge was telling. Normally it jumps to the reading where here it was a somewhat gradual climb. He said it should be at least 150 and that his race motors will typically be 180.
John's best guess was that the car had the wrong pistons. I told him to do whatever he had to do to find out what was wrong. Cody and he were taking their 30's Ford roadster with a flathead V8 to a big car show in Maggie Valley, NC last weekend. so nothing happened on the motor until this week. John called me on Thursday to tell me that he was right about the pistons.
I drove over there Friday morning to give John some more money and to see what he had found. It is a little out of focus in the photo below but, when at top dead center, the piston is not flush with the top edge of the cylinder. It's not off my much but enough to make a big difference.
The pistons are J&E marked 96P. They are in excellent shape as were the rings, which explains why the leakdown test was good.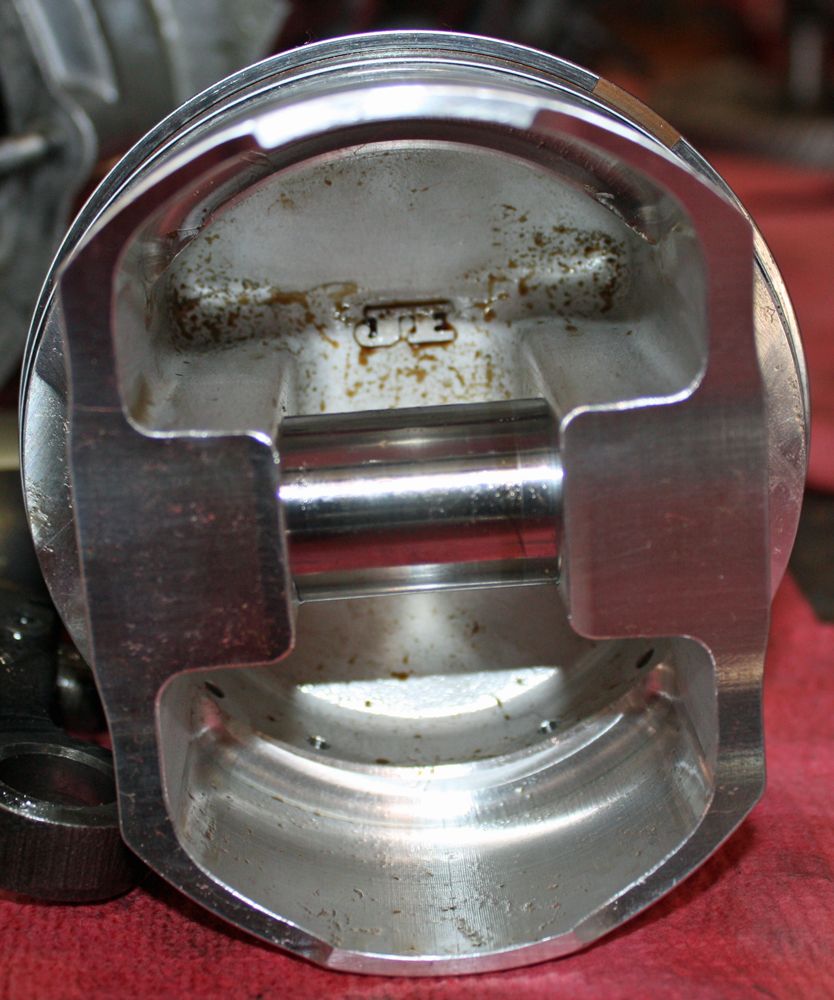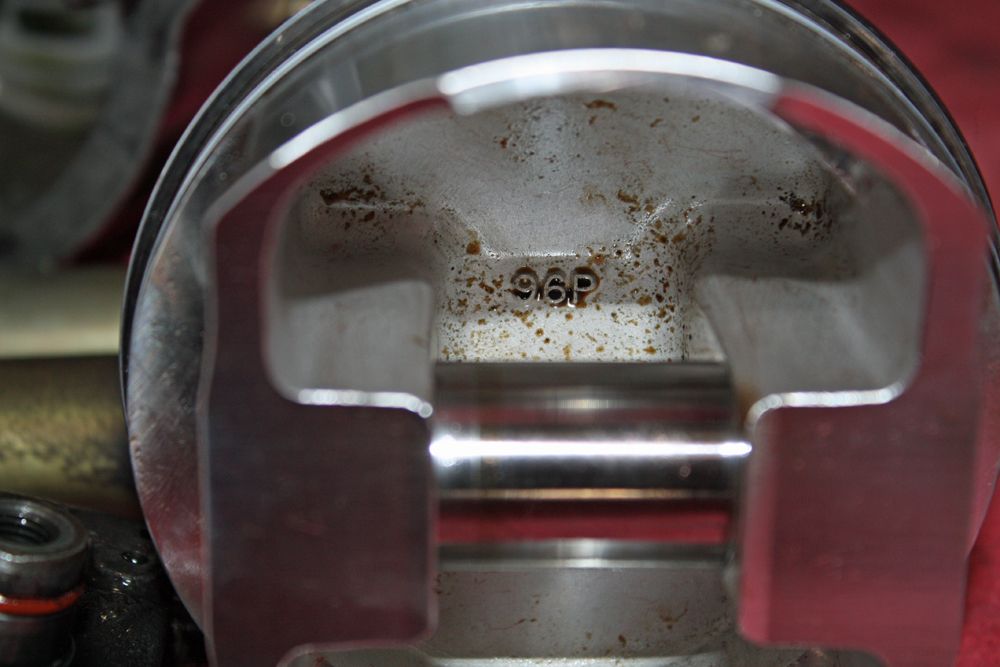 John talked to J&E about these pistons. The engine had been running very rich with the carburetors and they wanted to see one of the pistons cleaned up so they could check for numbers. There were no other numbers besides the 96P. One their current pistons there are numbers showing when it was made and other tracking information. Evidently they were not doing this back in 2002.
The cylinders looked great with the crosshatching still showing. The guy who had this car redone back in 2002 also built the motor. He had attended a class put on by Bruce Anderson and Jerry Woods and then built the motor. I believe it was his first attempt. John found some other disturbing items. One was the lack of a spacer on the chain sprocket at the chain tensioner on the right side. John had not had this side apart previously as my boo boo was on the other side. The first photo below shows what it looked like before they took it apart. The other photos show a spacer, from John's inventory, in place. John said that on the later cars the sprocket assembly was different with the part being built in such a way that no spacer was needed. John didn't recall this issue on the other side as would have noticed it.
There was also an issue with the chain guides as there were five of one type and one of the other instead of them being evenly divided with uppers and lowers.
The rod bolts were stock but John said he would have used competition bolts and nuts on a motor putting out the power this one should. He also found the use of crush washers where wave washers should have been used. Because of all of these issues, he said the case should come apart so they can check everything. And that is where we are at today.

05-25-2019, 11:05 PM
User
Join Date: Apr 2006
Location: Rockwell, NC
Posts: 450
Likes: 0
Received 0 Likes on 0 Posts

---
While I was at the shop, I took the fan shroud with me. It has some paint issues that I had not addressed as I didn't want to tear down the motor to the extent needed to remove the shroud. I bought some very mild plastic bead for my bead blaster, turned down the air pressure and removed the old paint. After cleaning everything, I hit it with some primer. I will do a bit of sanding on that and then add the color coat.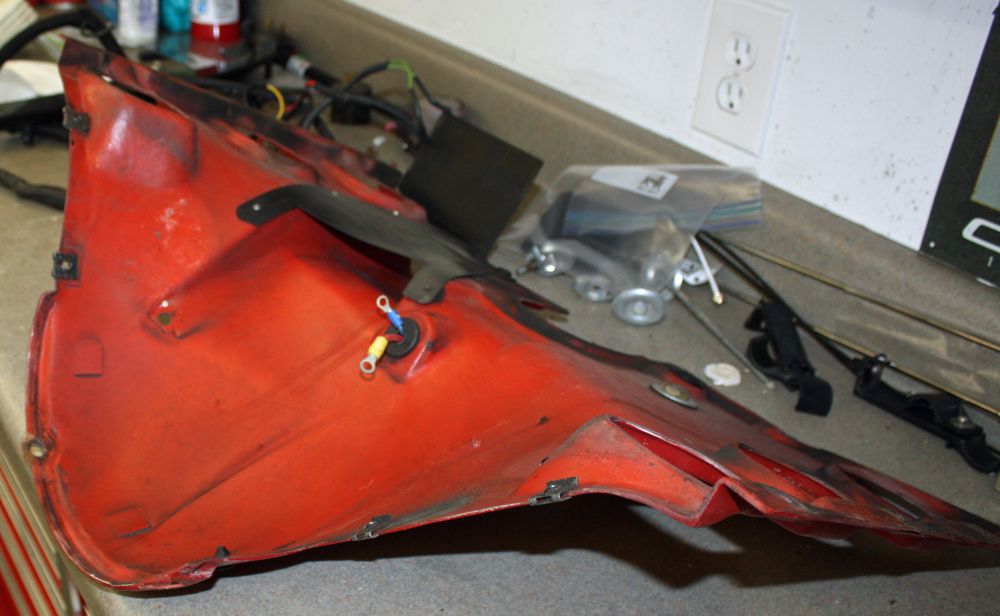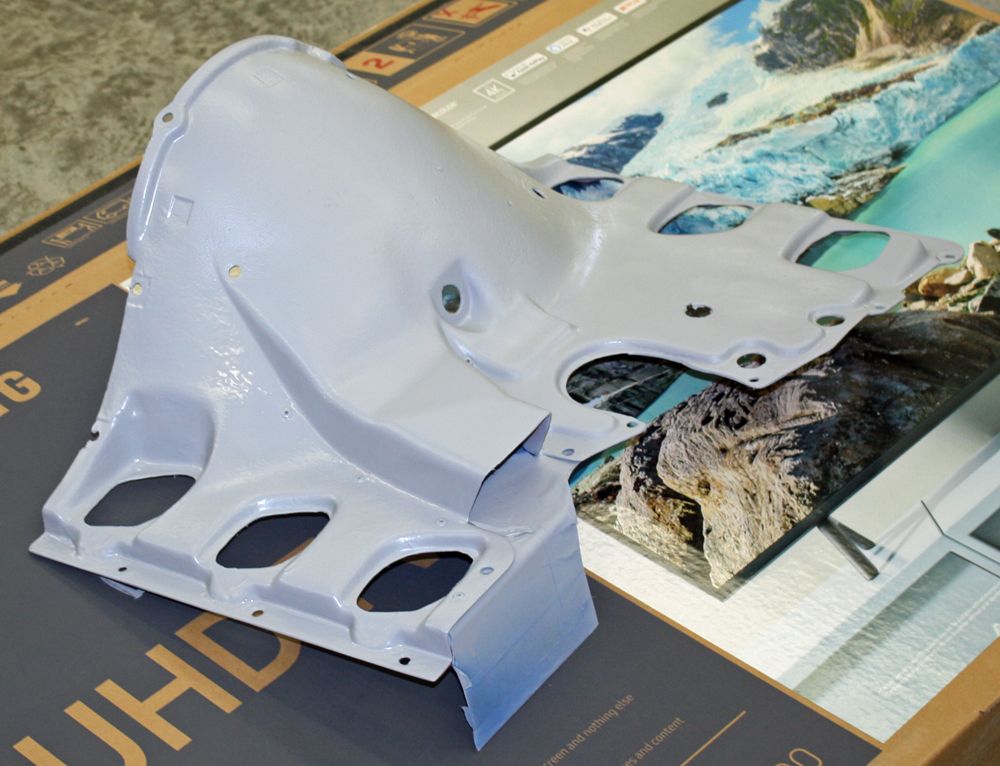 05-25-2019, 11:57 PM
User
Join Date: Apr 2006
Location: Rockwell, NC
Posts: 450
Likes: 0
Received 0 Likes on 0 Posts

---
On the good news side, my son's car arrived at his house from the body shop. Adam, from Backyard Legends in Concord, NC, delivered it in his closed trailer. Adam has prepared cars for Amelia and does fantastic work. The paint quality cannot be seen in photos. It has to be seen in person. The complete bottom and the engine and trunk bays are painted with a matching color bedliner material.
Last summer Hendrick Porsche of Charlotte hosted a 70th birthday party for Porsche. Numerous cars were on display with one of them being a RSR that Adam had recently completed in a stunning orange.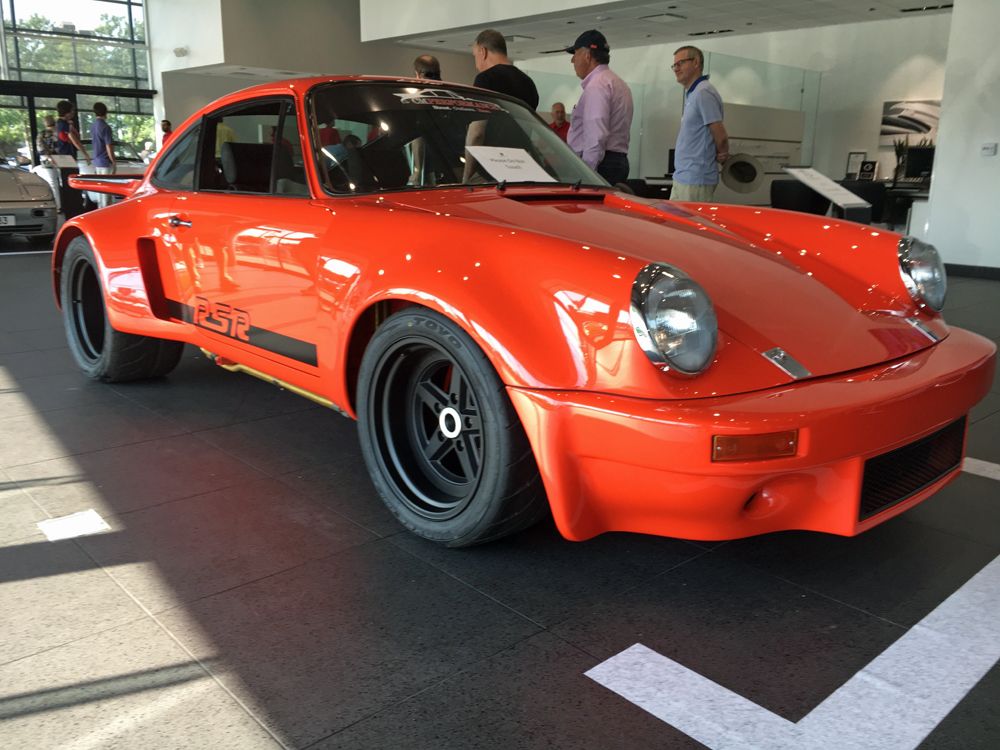 I struck up a conversation with Adam and told him about Matt's project putting the Tesla motor into a 1979 911. He was interested from the get go and said he wanted to be involved with the car. I put him and Matt together and the result is stunning. The first photo below shows the car as Matt bought it. It was a roller that had been flooded during Katrina. Matt had some rust repair to do before he could begin modifying it for the Tesla motor installation.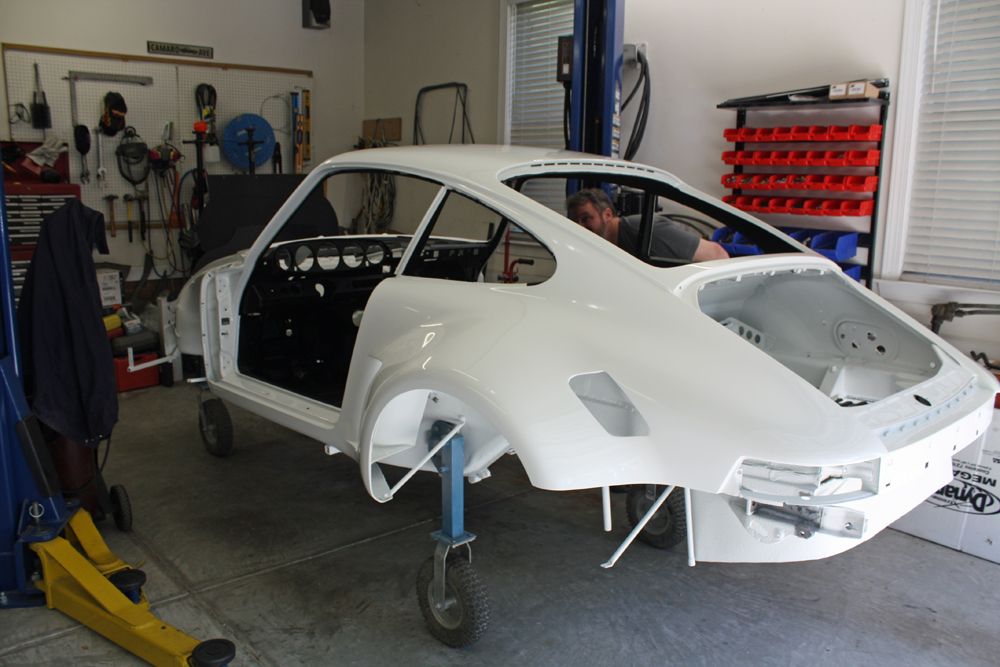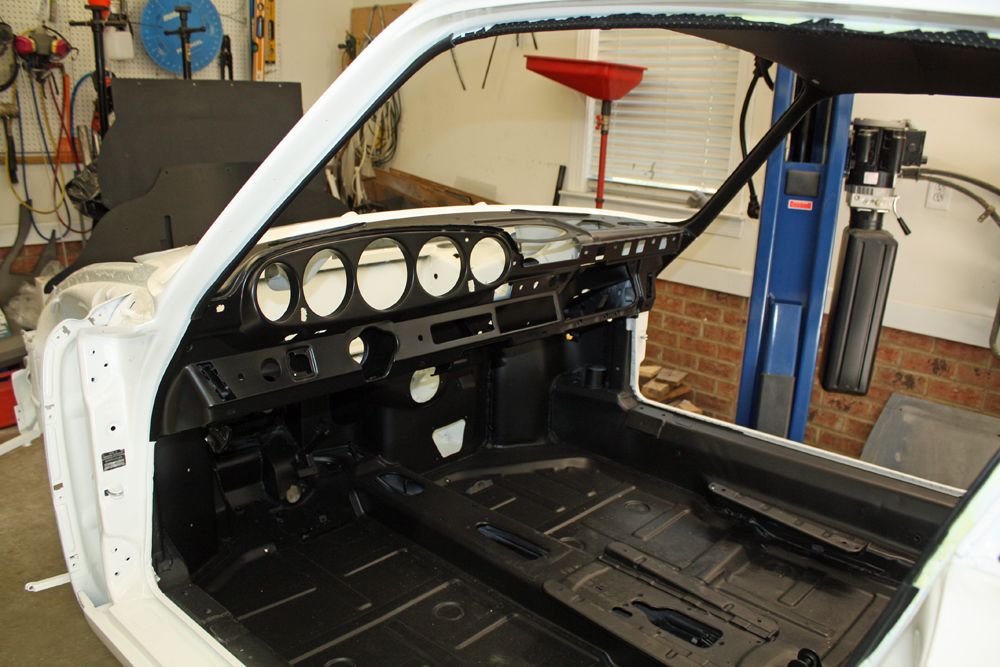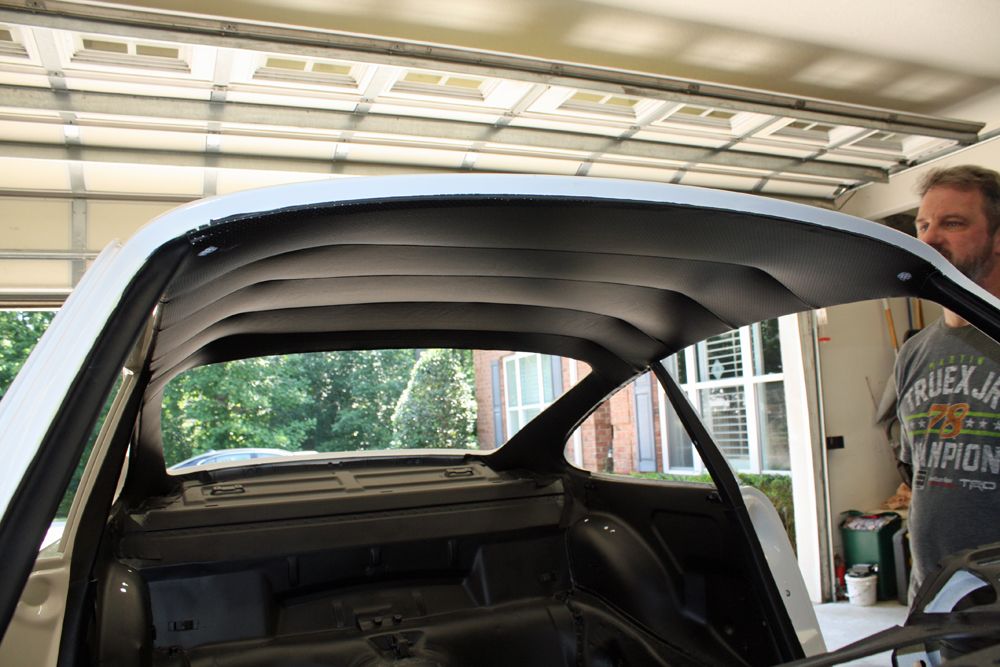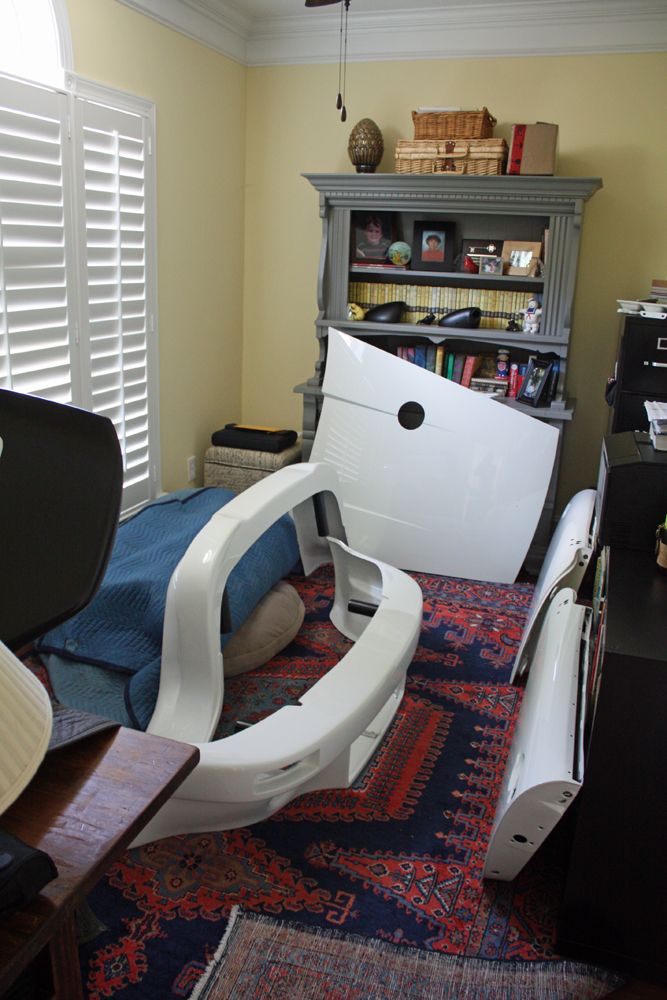 06-12-2019, 06:21 PM
User
Join Date: Apr 2006
Location: Rockwell, NC
Posts: 450
Likes: 0
Received 0 Likes on 0 Posts

---
John's wife had surgery on her shoulder recently. Besides taking her in for surgery, he has had to take her in for rehabilitation. Also, his sister passed last week so he had a funeral to attend. I visited the shop today. John was gone with his wife but I did see the motor. It is nearly all the way apart. I left a message for him to call me when he gets a chance.
After working with the shroud, I decided it needed a fresh coat of gelcoat. I have it at a boat company to have that done. They are busy so I am at their mercy.
About seven years ago, I did a full body-off restoration on a '64 Corvette coupe. I did that entire project in nine months. And that was with me breaking my wrist about two months into the project resulting in my not being able to work on it for about six weeks. This 914 has been my most frustrating project to date. Everything is taking longer than I expected it to. One of these days it will be finished.
On the other hand, my son's 911 Tesla project is moving right along. He has it mostly complete. On Sunday the body shop guy came to Matt's house and we installed the doors, bumpers, hood, and deck lid. It looks fantastic!!