'82 911SC w/ '84 3.2 conversion. Just purchased and isnt running. Repair help thread!

03-26-2012, 02:29 PM

'82 911SC w/ '84 3.2 conversion. Just purchased and isnt running. Repair help thread!
---
Hey All,
I am newish to the forum after poking around here for a long time, having owned a few front engine Porsches. I finally purchased my dream 911, but she needs a little love to get going right. Seeing that this is the first 911 I've actually owned, I might need some help along the way!
So, we picked the car up Friday night. It was a long 3 hour drive there and back, using a gold Toyota Sienna as a pull vehicle. Pretty comical! A drunk kid pissed on the car while we were parked in town eating pizza (he is still alive, surprisingly) and we didn't get home until 4am, but we made it, thank God.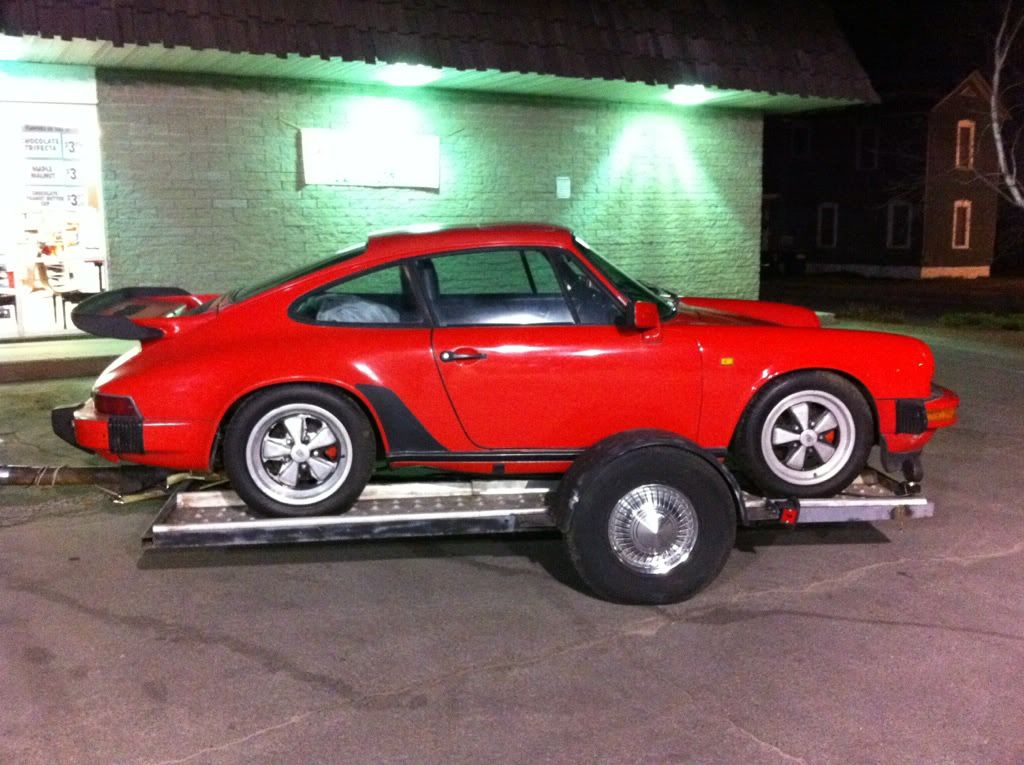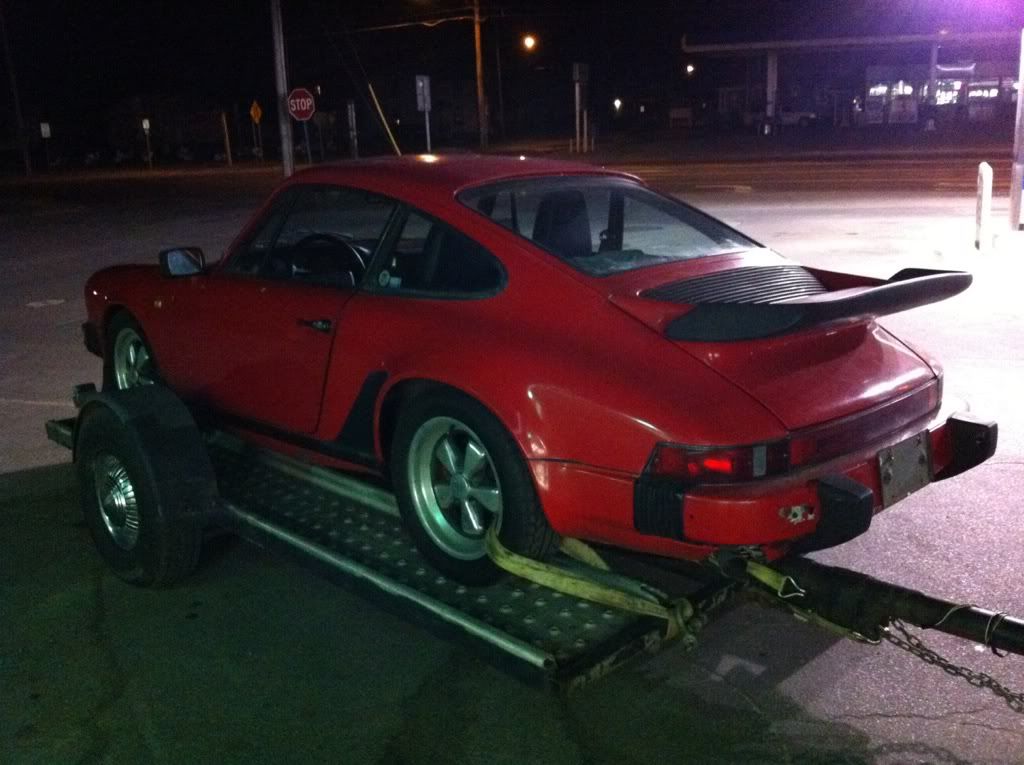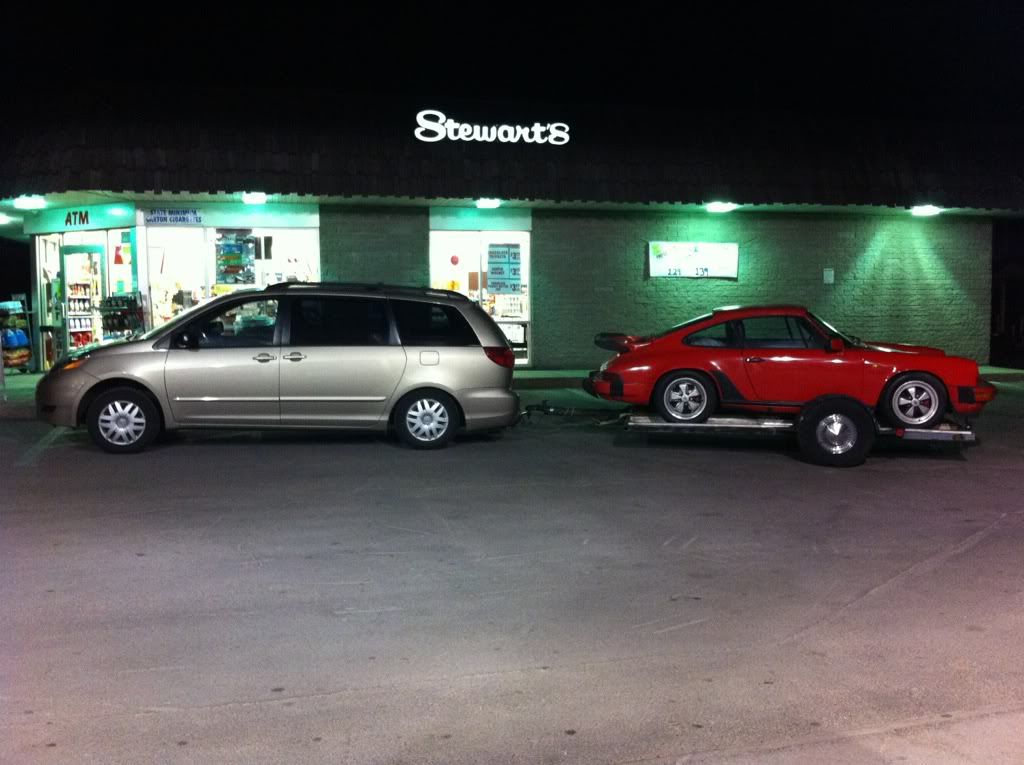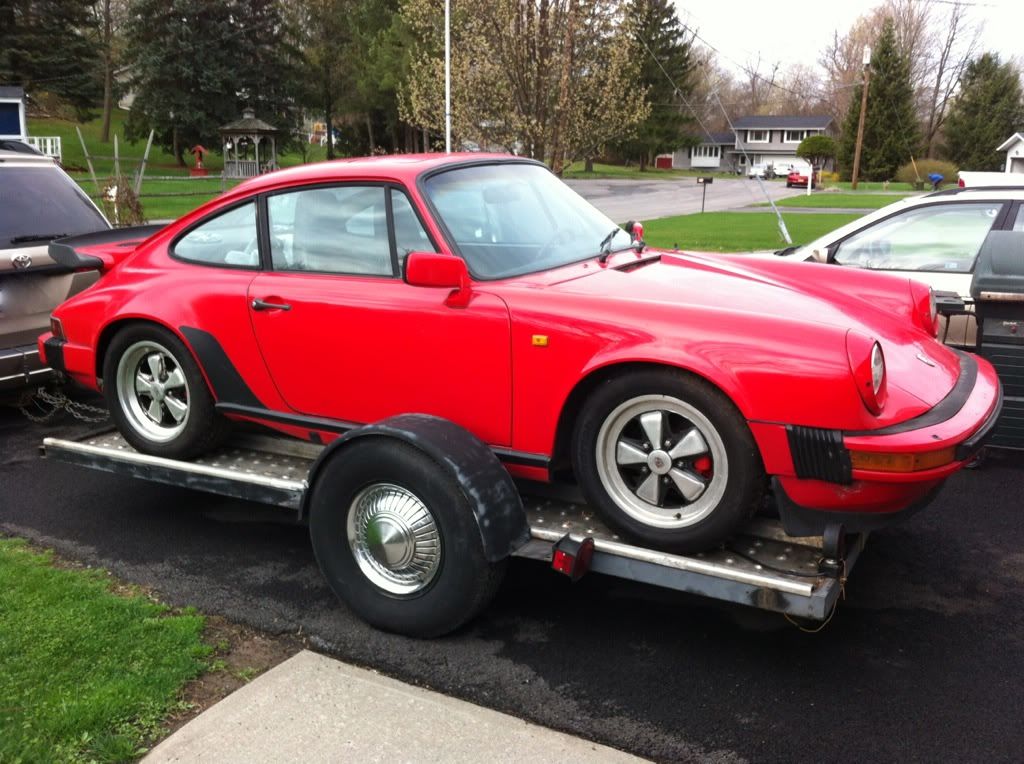 Car Problems:
1. ITS NOT RUNNING! Previous owner inherited from father. Father did the 3.2 conversion and some other things (new stereo, ew). Previous owner drove it for 6 months, then one day while driving it back from being inspected it sputtered out. He has limited mechanical knowledge and diagnosed it as a fuel problem.
The engine cranks with the ignition, but does not fire. I cannot hear the fuel pump running, and the previous owner says he checked the fuses and ran power to the fuses to try and start the pump but it did not work. I checked the relay, which power ran through when the ignition was OFF, but cut power when the ignition was ON. Is this normal for these cars? Also, I had a '76 924, and those cars' fuel pumps ran only when you cranked the engine. Is it the same case for these 911's?
When I climbed under the car to check the pump, much to my surprise, it was brand spankin' new!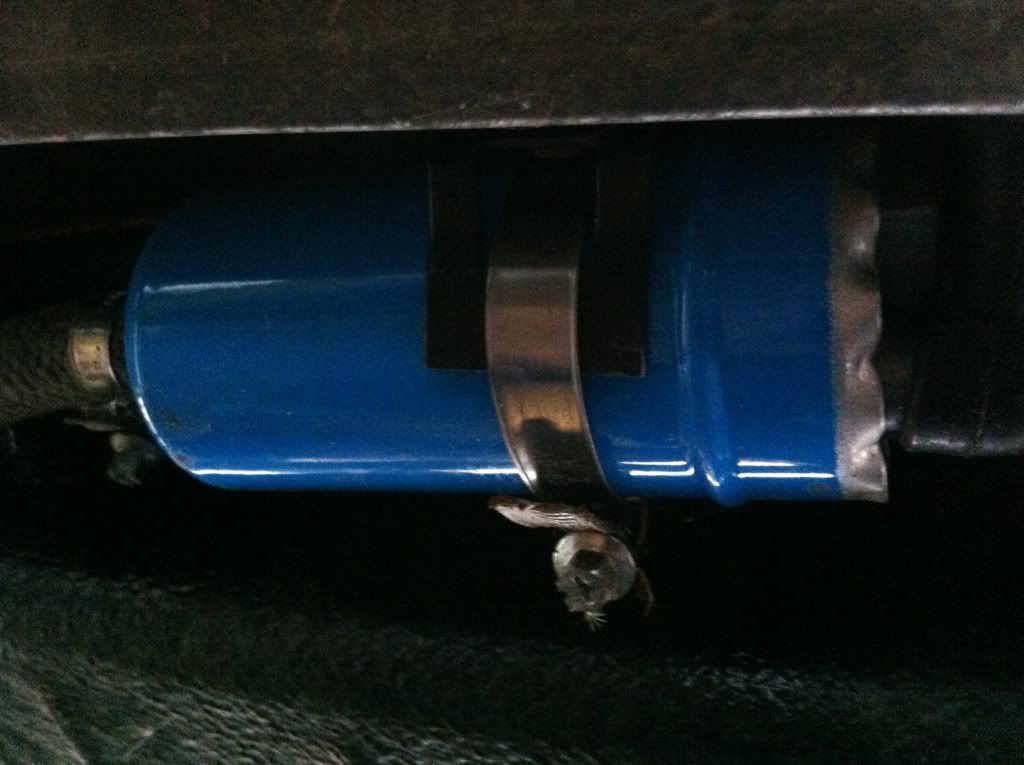 So, I am going to try disconnecting the pump and testing it with direct power, draining the tank, and putting some fresh fuel in the car today. Does anyone have any questions or ideas as to why the car is not running? I am happy to provide any pictures and videos you'd like. Thanks!
---
Last edited by Ds1; 03-26-2012 at

03:07 PM

.

03-26-2012, 09:51 PM
Super User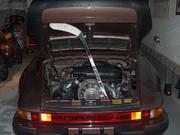 ---
welcome to the club and you even posted pics..

Usually you want to do some good diagnostics before you replace parts but you are going to have to to do the cap rotor and filter stuff anyway so may as well get those while you are picking up your DME relay. The DME relay is the most likely culprit and you need one as a spare regardless so that is a good place to start.

You should really see if you have spark too.. i think the DME relay provides power to the DME and the fuel pump in two seperate pieces of the relay.

03-26-2012, 10:32 PM
I haddah Google dat
Rennlist Member
Join Date: Nov 2008
Location: Fresno, CA
Posts: 11,511
Likes: 0
Received 0 Likes on 0 Posts

---
Yep. DME relay.

Try using these search terms in Google:

site:forums.rennlist.com 911 "no start"

site:forums.pelicanparts.com "no start" ischmitz scarceller

those two guys are a wealth of info. Also, a few books will be valuable to you. One is the 911 Carrera Service Manual by Bentley Publishers. The other is Bosch Fuel Injection and Engine Management, by Charles O. Probst.

03-26-2012, 10:40 PM

---
Explain a little more. So the DME relay is a common part to fail on these cars? I'm guessing its the relay that the previous owner placed directly next the the DME under the driver's seat.

03-26-2012, 11:11 PM

---
DME Relay...

Like THIS ONE?! :reckon:

(you can also see a crappy picture I took of the one that is actually installed.) The other two I took a picture of were in the passage seat of the car along with a cracked distributer cap in a box. Hmmm....

03-27-2012, 12:41 AM
Addict
Rennlist Member

---
Welcome and congrats. Sounds like you had a bit of an adventure getting her home.
Best of luck getting her running again.
I'm curious if you have yourself a European car there?
Two things stick out, the narrow rear bumperettes, and the reflectors on the front fenders.

03-27-2012, 02:56 AM

---
Ah yes! I forgot to mention that - she is a European gal. Someone serving in the army there probably brought the car back. Unfortunetly, I do not know if the transplanted 3.2 is U.S. or Euro...

03-27-2012, 01:10 PM

---
Update!
I found this thing under the seat with the DME and relay. I'm guessing it is the alarm unit I have heard some people talking about?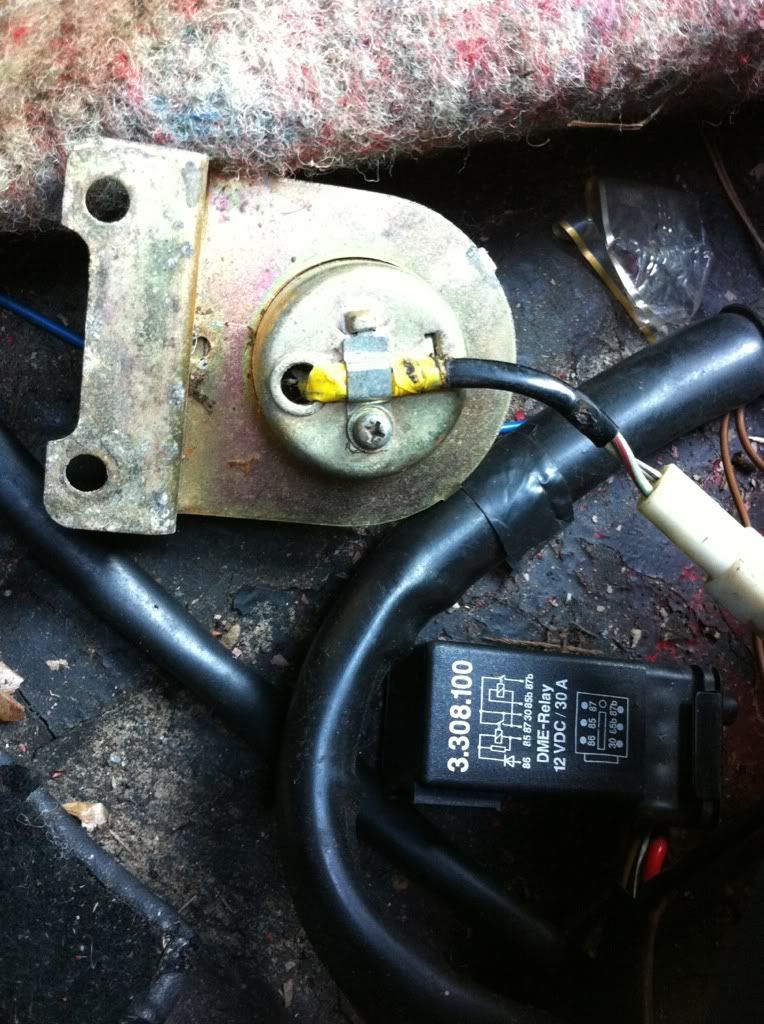 I tested BOTH relays I found in the car. BOTH worked fine. The connections in the relay plug itself looks good too. My one question is: I know the DME Relay has 2 sides, but I'm not sure if I was testing both sides. Here is how I was testing the relays:
Also found in the car. A cracked distributer cap and new rotor. Interesting...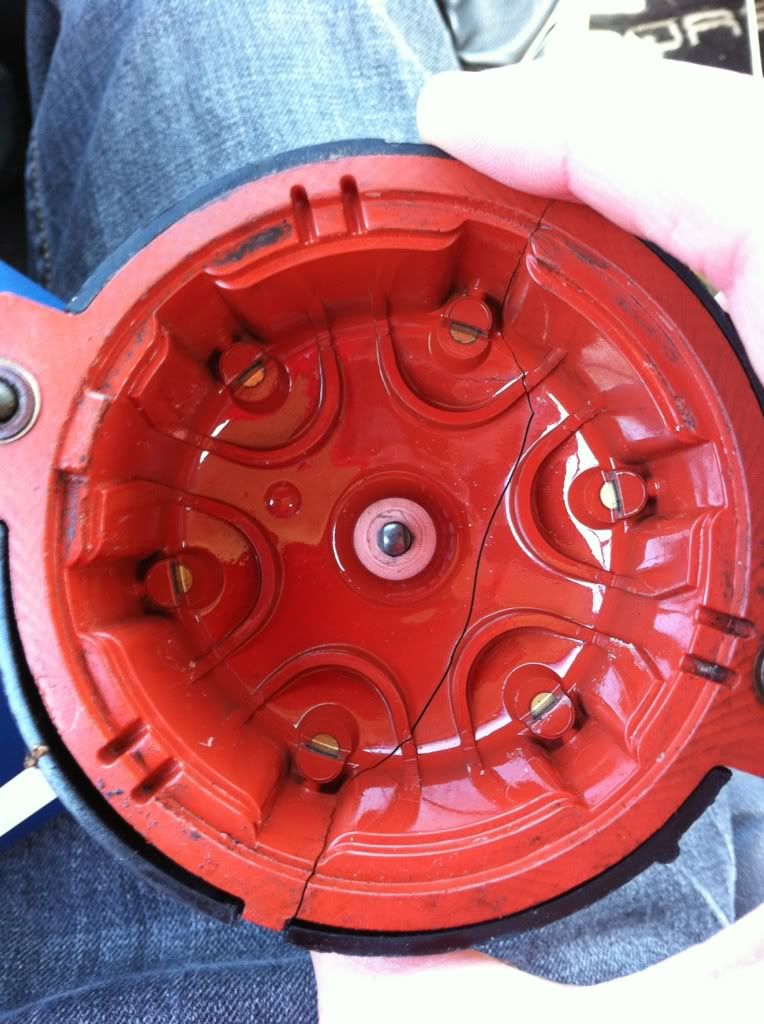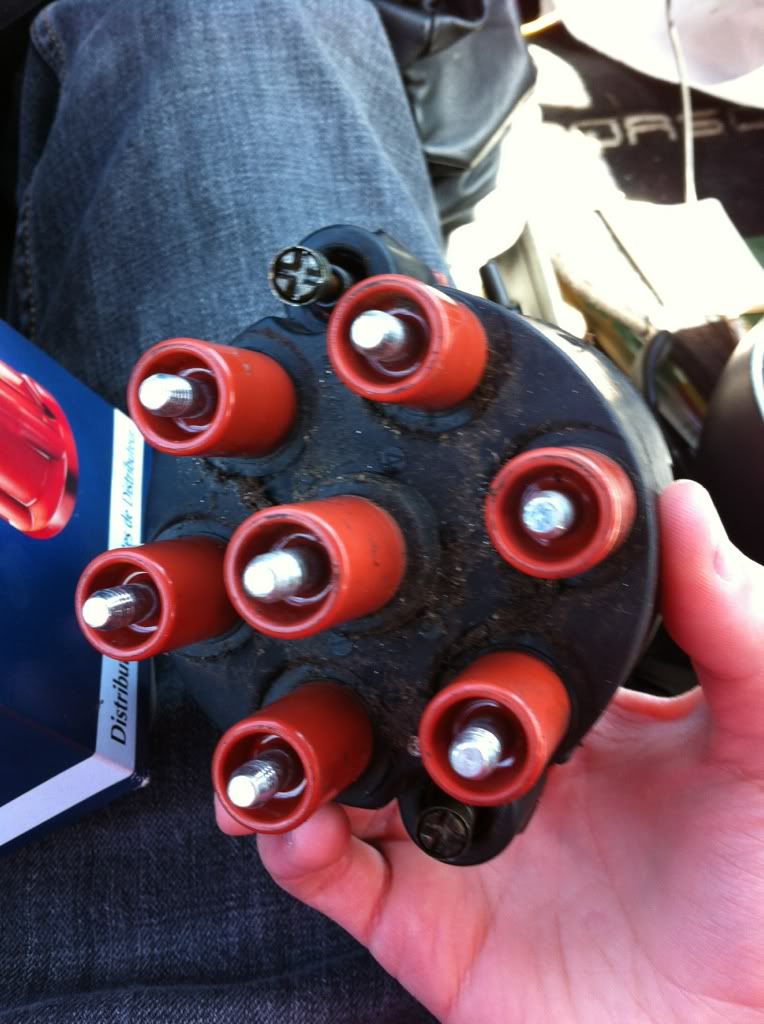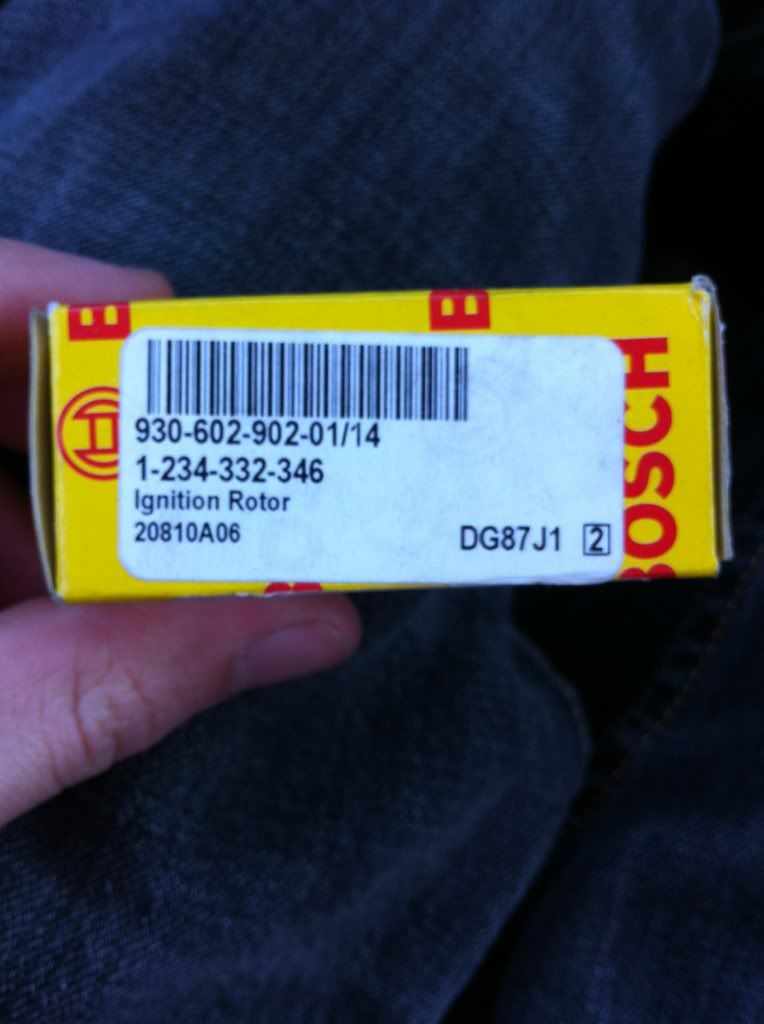 OFF TOPIC!
I am not familiar with the brakes on these cars, but mine seem interesting because they have a brake line jumper across the bottom. Could they be 70's 930 brakes? I know the newer ones said "Porsche" on them.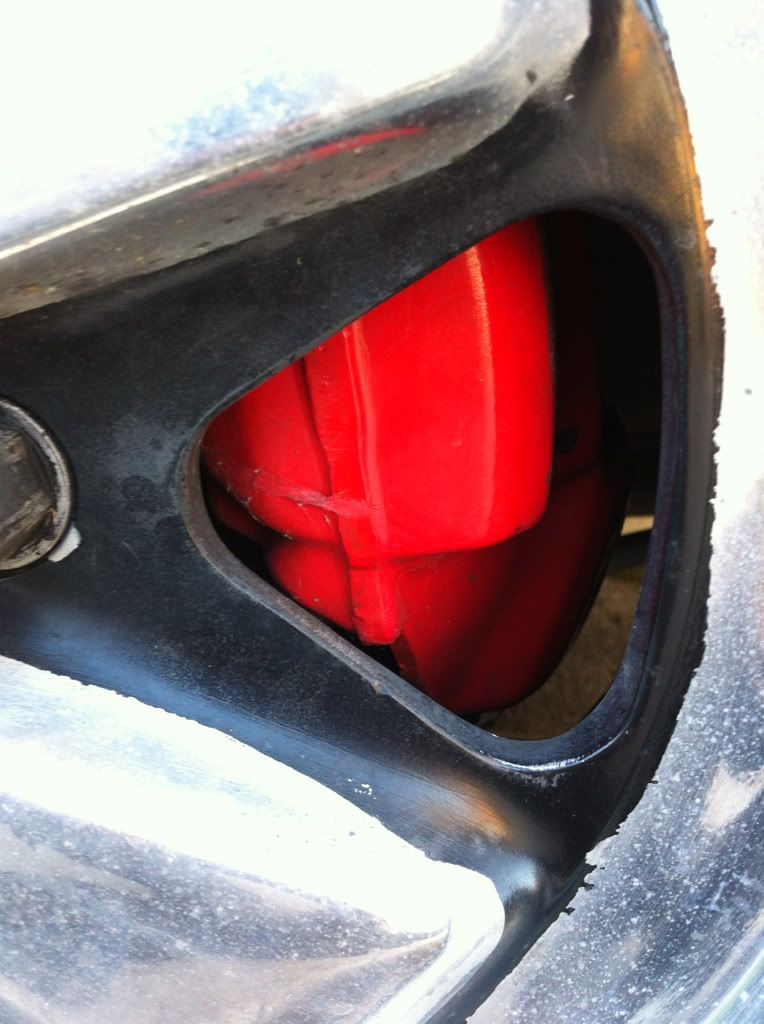 03-27-2012, 02:32 PM

---
Update!
ITS SPUTTERING!!
I poked around some DME and under-dash wiring, then thought to hit the key just for the heck of it. And looks what it does! (video)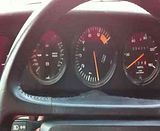 The gas has been in it since 2010, so I'm going to drain it and put some fresh stuff in. Especially with the use of ethanol these days, I've seen a few cars whose only problem is old gas. So, we will see what happens; I'm going to run down to Walmart and grab a siphon pump now.
Also, this thing isn't connected. It might be a "noob" question, but what is it? I thought it was the throttle control at first...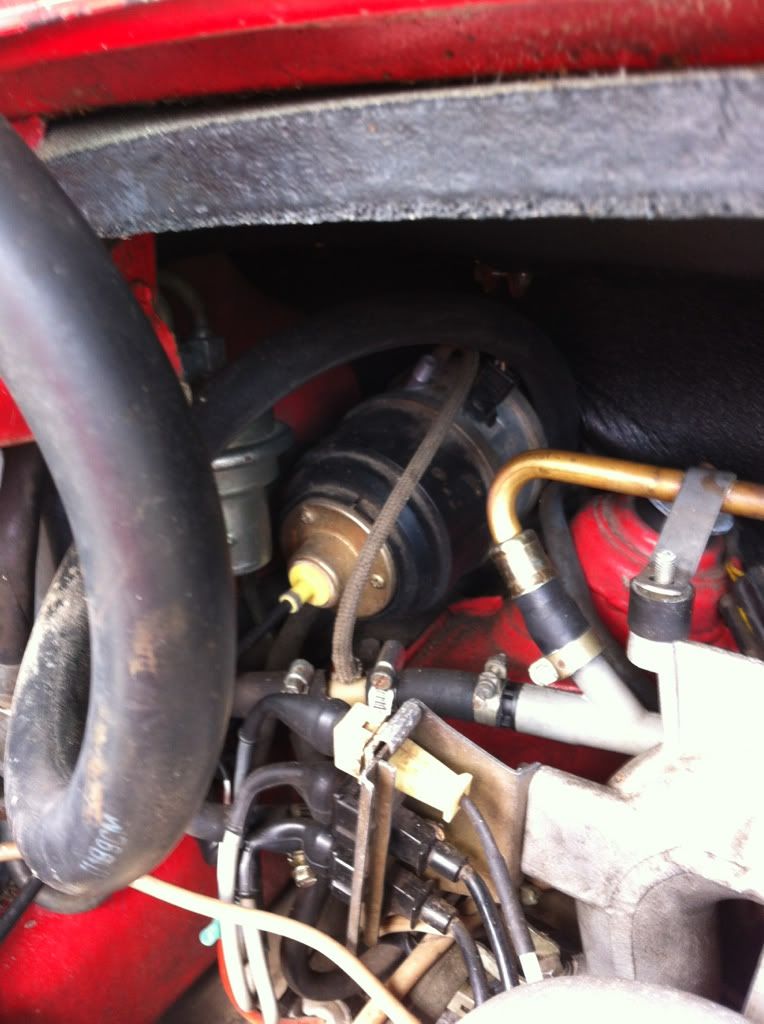 And it should be connect to here:

03-27-2012, 06:34 PM

---
SHE'S ALIVE!!

After the sputtering I drained the fuel tank and put 5 gallons of fresh premium in it. Gave the key a couple turns to get the old fuel out, and then it ran! It would not idle, I had to feather the pedal for the entire 1 or 2 minutes it ran. Also, the oil gauge was in the red even though the oil pressure looked good, so I'm assuming an oil is needed ASAP before it is run again for any length of time.

Comments, questions, concerns?

I see that 20W-50 non-synthetic is suggested oil, how about a brand to use? Mobil 1 tried to kill my Miata so I try to avoid it, along with research oil brands thoroughly.

03-27-2012, 06:48 PM
Addict
Rennlist Member
Join Date: Jan 2007
Location: Alta Loma Alone
Posts: 37,777
Likes: 0
Received 0 Likes on 0 Posts

---
don't fret the low oil. Warm it up and check the dipstick. I use Kendall 20W50 and take crap for it, but I like it.
Check the passenger side front fender well to see what kind of oil cooler you have and if it has a fan. The fans tend to freeze up if not used. Not a big deal this time of year.
Congratulations

....and that is your cruise control, not your throttle. Don't worry about it.