My 1978 3.0 L head stud replacement thread

09-15-2011, 09:23 AM
Super User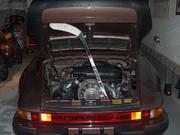 ---
I am sure Steve has talked about this before and he has commented on this type of damage on fairly recently rebuilt engines. I wonder if this is the net effect of pulling zddp out of oils as it seems to me it would hit the cam lobes and rocker arms first. i am not sure the bearing surfaces would be an issue as the bearing sits stationary against them but i really have no idea. The pitting in the piston looked concerning. Could this be the result of pinging ?

Some sad news there Brett but the lessons learned here and the pics are simply outstanding. Sorry it has to be at your expense. I am kind of afraid to look at the lobes on mine now the next time i do a valve adjust.
I wonder what would have happened if you had just put a stud in and buttoned it back up . I am sure this has crossed your mind. What would th enet effect be .. just less power ?, i dont know what pitting lobes would cause and am kind of wondering what symptoms i would see.

Other thing is that engine seems awfull dirty and used for a 40,000 mile engine . Other with More experience would know for sure I guess

Anyway for what its worth keep up the great work .
P.S. what oil were you running ?

09-15-2011, 10:48 AM
Super User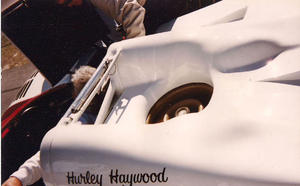 Join Date: Nov 2004
Location: Blue Ridge Mountains NC.
Posts: 3,991
Likes: 0
Received 0 Likes on 0 Posts

---
Cam options are an exciting subject at the expence of many fun-tickets.
I would split the case, inspect and replace everything accordingly. I would not reuse any of those cam housing/rockers/cams without them being refreshed or replaced. And I would not refresh/replace the valvetrain without looking inside the case. You're way to far along to short stop your efforts now; this is why you took all this apart in the first place.
For cams: webcam is great for sure but Ed is ringing the bell for John and I would suggest a call or visit to both of them. A few extra dollars at this point will get you some extra ponies as well...but you should have a nice exhaust too. It never ends does it?

09-15-2011, 11:10 AM
Super User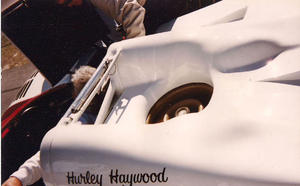 Join Date: Nov 2004
Location: Blue Ridge Mountains NC.
Posts: 3,991
Likes: 0
Received 0 Likes on 0 Posts

---
Myself and Ed mentioned the Ti valve spring hardware in the other (battery area) thread. I won't regurgitate my rant over there and I think you may know most of it anyway Brett. But if you do go with a more agressive cam (usually increased lift in the case of injection, as duration will create overlap) the valve has to move farther in the same amount of time...this increases valve velocity and load on the cam/rocker. The lighter weight Ti hardware is good insurance, especially if you are going to track the car. Many will contend that stock valve hardware is pretty good though.
Just part of the discussion...I like these threads and get a kick out of spending other peoples money. I tried like hell to extrude-hone Ed's wallet on Ruby's Redux.

09-15-2011, 11:41 AM

---
Wow Brett, we are both locked into full rebuilds now! You wanted to fix a broken head stud and I wanted to replace the fuel lines & various seals and look where we are now!!!

For my part I can confirm that the damage/wear on the cam tower, rocker face, rocker shaft & bushing in those photos looks extensive. Those parts on the motor I am disassembling all look virtually perfect, and it is a 107K motor that has never been opened. This suggests to me that your theory that some of the carnage may be due to a previous failure event may be very likely. The other thing I wonder is whether the previous work left some dirt in the system? I only mention this as I share your dismay at some of the inappropriate hardware substitutions (i.e. some of the washers for the head stud nuts). A mechanic that would take those kind of shortcuts may also not be scrupulously clean as well.

Of course, it is all quite fixable with money. They key will be to get expert opinion on what can be successfully restored vs. what must be replaced. The silver lining is that if you have to start replacing some of the expensive parts, you may be able to chase after some performance upgrades for not much more $$. In my case, I know if my P's & C's don't spec out, I will be looking at Euro versions (higher compression for the 3.2).

09-15-2011, 12:01 PM

---
Appreciate the comments from all. Ed, I will definitely look up John Dougherty when the time comes.

I'm not a HP junkie. More of the concours type. I don't see myself upping the internal specs of the engine at all except for any reliability upgrades that are recommended. Stock rebuild is good for me (At least that's what my mind says now). I may fancy a set of SSI's in the future perhaps.

Ice: The engine may have gone for a long time as is (well, if the head stud hadn't given up). It did not have excessive oil consumption. But, I'm here, so all will eventually be done correctly. I just hope the crank journals aren't beat up.

Brett

09-16-2011, 03:39 AM

---
I finished separating the heads from the cam housings this evening. Bank 2 was tonight's task.
I don't think these gouges in the cam housing came factory installed.
Just another view of the same thing.
This is the area right below the spinning cam shaft. Any foreign object in here is going to get bounced around by the cam lobes. More fallout perhaps from a serious failure. Well, at least the first owner put the original engine back together rather than dropping in a replacement. I like the fact that it's a numbers matching 911. I would have bought this 911 without an engine (probably for the same price) just for the disco era continental orange/lobster color combination.
Knocking the cylinder heads off of the cam housings was a bit stressful. Mr. Dempsey describes the process as tapping the heads off the housings. I would call the effort needed for my heads as much more than tapping but short of pounding on the studs. The refrain repeating in my head the entire time while working on the first cylinder was, "Am I supposed to hit it this hard. Am I supposed to hit it this hard..." Finally, it broke loose, and only then was it just a matter of tapping to work the head off. I used a hammer with a sturdy punch placed on the studs.
I found the height provided by some pieces of 2x4 and 4x4 to be perfect for the task of supporting the assembly during head removal. Just a few pics of the process.
Brett

09-16-2011, 10:15 AM
Super User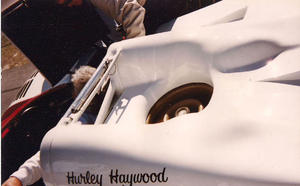 Join Date: Nov 2004
Location: Blue Ridge Mountains NC.
Posts: 3,991
Likes: 0
Received 0 Likes on 0 Posts

---
Maybe this car had a on-track incedent like a missed shift/over rev. Also, if in a spin, the driver doesn't get the clutch in fast enough, he can turn the motor backwards when it comes around. All this can possibly break a rocker/bend valve etc. Who knows, but I don't think this kind of damage is uncommon in these older cars.

09-16-2011, 11:47 AM

---
In my case I removed the cam tower while the cylinder heads were still bolted on and it did need just some tapping to release. I guess each order of disassembly has its pros and cons. I can see that it would be nice to remove the rockers with that sub-assembly on the bench...

09-18-2011, 04:14 AM

---
Originally Posted by
500_19B
In my case I removed the cam tower while the cylinder heads were still bolted on and it did need just some tapping to release. I guess each order of disassembly has its pros and cons. I can see that it would be nice to remove the rockers with that sub-assembly on the bench...
Yeah, it was nice to work at the bench on rocker removal. There's a lot of picking up and putting down tools during the process. When working on the bench, they're all right there on the bench next to you. The only issue was removing the nuts to the cylinder heads. I needed to hold the head/cam housing assembly against rotating otherwise it just turned on the benchtop with any force on the wrench. I ended up using a C-clamp to clamp a small block of wood to the edge of the bench. One cylinder head was set against this block, and then I put another block of wood between the cylinder head on the other end and the wall. No problems, then.
As I was "tapping" my cylinder heads off the cam housing assembly, the assembly was sitting on blocks of wood, and the blocks of wood were sitting on a sheet of cardboard. I imagine the softer materials dampened not only the impact and but also the high frequency vibrations caused by tapping, which contribute to breaking the bond between the parts. I don't know... All I know is I did have to whack the studs pretty good to break the heads loose.
Brett

09-18-2011, 04:54 AM

---
I got the head studs removed tonight. I wasn't going to put in new intake side studs (They're steel.), and upon looking at them more closely, I don't think it was necessary at all. Visually, they all looked in good shape. But, upon making the decision to split the case to get a visual on the main bearings and eventually have the crank measured and evaluated by a machine shop, I figured, why not change them. It'll be easier to transport the case to the shop for cleaning and evaluation, too, without the studs sticking out. At this time, I am expecting to replace them with the same OEM steel studs.
I found that a small pipe wrench was a sufficient tool on my studs. Here's a pic of one stud in process.
I ended up using heat on only 9 of 24 studs, and I may not have needed to use it on that many. I used a MAP-Pro/air torch. I don't have an oxy-gas set-up. On the first row of studs that I removed, the first two I did check for resistance before applying heat, and they were stuck in there pretty good. So those first two got heat. The other 4 on that row and the first on the second row, I didn't check. I just went straight to heating them. They may not have needed it, because after that I decided to try every one without heat, and most came out, even with the relatively small amount of torque that I could apply with the short pipe wrench. It was only the last two intake side studs on the second bank that needed heat again. I applied the flame as described in the Wayne Dempsey engine rebuild book, on the wall of the cylinder spigot adjacent to the stud. I gave it about a minute of heat before turning the stud, then kept the heat on for a few turns.
I noticed that when I didn't heat the studs, they came out cleaner. The heated studs had a grey residue in the threads (presumably the decomposed thread locker). As easily as some of the studs came out, particularly the exhaust side studs, I began thinking again that maybe they had been replaced once before, and not much or no thread locker was used.
Removal of the broken stud wasn't that bad. I was concerned because this stud was broken in a potentially tough spot. It was close to the rear of the engine case where it flares out to surround the flywheel, and it was broken short such that there was no clearance above the case. This is the hardest possible situation for getting a wrench on the stud. Fortunately, I had read some threads on broken stud removal, and one of the suggestions was to grind flats on the stud and use an adjustable wrench on it. That worked brilliantly for me. And, fortunately, this stud was not bound in very strongly by thread locker. It backed out nicely with the crescent wrench.
A couple views of the grinding job with the stud still in the case. I put a cut piece of cardboard over the cylinder spigot to minimize entry of junk into the case.
Voila!
And, I thought this whole job would just be about removing and replacing this one tiny little stud. How naive can one be?
Brett
---
Last edited by Brett San Diego; 09-18-2011 at

01:02 PM

.

09-22-2011, 01:57 AM

---
I made an attempt at splitting my case this evening, an unsuccessful attempt. I even welded together a spreader tool to apply tension between the fan housing mounts. Then, I tapped and tapped and tapped harder and tapped harder and pounded pretty good with a hammer on a wooden dowel set against the case, and... nothing. I'm off to do some forum searching.
Here's my spreader tool. I didn't see one of these on Pelican Parts. LOL
Brett